PS4 List Of 100 Games For 2014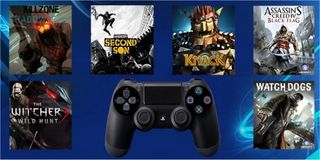 Sony promised more than a 100 games for the PlayStation 4 in its first year on the market, and gosh darn-it they are delivering on those 100 games one way or another.
The PlayStation Access channel released a brand new video preview for those 100 titles in a quick three-minute trailer, many of the games are coming from the more than 1,000 devs signed on to produce games for Sony's newest console. There are games on the list that I didn't even know were coming to the PlayStation 4, including recently released games on Steam's Early Access such as Race The Sun (a game that I've been following since its days on Steam's Greenlight), as well as Savant Ascent (the dubstep Castlevania-style platformer) and Road Not Taken, the JRPG-style game with an interesting art-style.
PS4 Vita News managed to compile the entire list of the 100 games for the PlayStation 4, so you can see exactly what's coming to the system this year.
I like that Sony has a wide diversity of titles they want on the PlayStation 4, almost in a way to imitate the success of the PSX and PlayStation 2, where instead of always going for big blockbusters like Grand Theft Auto, Metal Gear, Gran Turismo and Final Fantasy, they diversified the library and pushed to increase the breadth of the PlayStation's market reach by diving headfirst into off-beat franchises and genres. Games like Katamari Damacy, Bust-A-Groove and Dance Dance Revolution helped give the PlayStation a name associated with more than just the typical action and racing fanfare.
You can definitely see that Yoshida and Boyes seem to be gunning for easy-genre-access for any and every type of gamer out there who doesn't easily fit into the category of playing shoot 'em up games or racing titles. I also like that they seem to be bringing in a lot of the same hot-topic titles that are currently making positive waves in the PC indie scene.
If I didn't own most of all the noteworthy indie titles already on my Steam account, a PS4 wouldn't be a bad way to go about having easy access to these titles in a living room entertainment space. I love it.
It also looks as if Starbound is set to launch sometime this winter for the PS4 and PS Vita. I imagine by then the game will have its endgame features implemented and the new character progress overhaul completed.
Anyway, you came for a list of games and a list of games you shall receive. The video above gives you an idea of when the window of release will be for many of the titles below. Thanks again to PS4 Vita News for compiling the list.
1: Thief
2: Basement Crawl
3: Dead Nation: Apocalypse Edition
4: Don't Starve: Console Edition
5: Outlast
6: Rayman Legends
7: Stealth Inc.
8: Strider
9: Strike Suit Zero
10: Awesomenauts Assemble!
11: Tomb Raider: Definitive Edition
12: TowerFall Ascension
13: FEZ
14: inFAMOUS: Second Son
15: Metal Gear Solid V: Ground Zeroes
16: SteamWorld Dig
17: Dynasty Warriors 8: Xtreme Legends Complete Edition
18: Mercenary Kings
19: The LEGO Movie Videogame
20: Watch_Dogs
21: Anomaly 2
22: Bound by Flame
23: CastleStorm: Definitive Edition
24: Child of Light
25: Daylight
26: Final Fantasy XIV: A Realm Reborn
27: Guacamelee! Super Turbo Championship Edition
28: KickBeat: Special Edition
29: LEGO The Hobbit
30: MLB 14: The Show
31: Octodad: Dadliest Catch
32: Oddworld: New 'n' Tasty
33: Pure Pool
34: Ready to Run
35: Secret Ponchos
36: Sportsfriends
37: Switch Galaxy Ultra
38: The Amazing Spider-Man 2
39: The Swapper
40: 1001 Spikes
41: Trials Fusion
42: Titan Invasion
43: Wolfenstein: The New Order
44: The Elder Scrolls Online
45: GALAK-Z: The Dimensional
46: CounterSpy
47: Pavilion
48: Sniper Elite 3
49: Race the Sun
50: Helldivers
51: Transformers: Rise of the Dark Spark
52: Destiny
53: Murdered: Soul Suspect
54: The Evil Within
55: Velocity 2X
56: Dragon Age: Inquisition
57: Evolve
58: Hotline Miami 2: Wrong Number
59: Rocketbirds 2: Evolution
60: The Witness
61: Alien: Isolation
62: Guns of Icarus Online
63: Hyper Light Drifter
64: Ray's The Dead
65: Assault Android Cactus
66: Aztez
67: Backgammon Blitz
68: Batman: Arkham Knight
69: Blast 'Em Bunnies
70: Cosmic Star Heroine
71: Defense Grid 2
72: Diablo III: Ultimate Evil Edition
73: Dragon Fin Soup
74: #Driveclub
75: Dying Light
76: EA Sports UFC
77: Energy Hook
78: Forma.8
79: Foul Play
80: Hohokum
81: Project Cars
82: Home
83: Lords of the Fallen
84: Mad Max
85: Middle-earth: Shadow of Mordor
86: Minecraft
87: N++
88: Nuclear Throne
89: The Order: 1886
90: Pier Solar and the Great Architects
91: Planetside 2
92: Putty Squad
93: Road Not Taken
94: Rogue Legacy
95: Samurai Gunn
96: Savant Ascent
97: Shantae: Half-Genie Hero
98: Sherlock Holmes: Crimes & Punishments
99: Starbound
100: Super Exploding Zoo
101: The Crew
102: Tom Clancy's The Division
103: Transistor
104: Tropico 5
105: Valiant Hearts: The Great War
106: Volume
107: Assassin's Creed: Unity
Your Daily Blend of Entertainment News
Staff Writer at CinemaBlend.