PS4, PS3 Adding Octodad And Soulcalibur Lost Swords This Week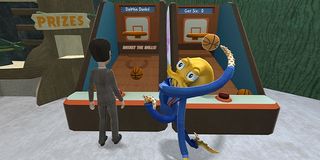 PlayStation consoles are showing little sign of slowing down on the new games front heading into the summer months as another collection of new titles are announced for this week's batch of releases, including Octodad on the PS4, Demon Gaze on the Vita and Soulcalibur Lost Swords on the PS3.
This time most years, it wouldn't be uncommon to see consoles already slipping into the notorious summer drought, a time when developers stop releasing new games as they gear up for the traditionally over-stuffed holiday window. Apparently Sony's calendar is broken, however, as this week boasts another full lineup of games spanning loads of genres. There are more niche titles than AAA blockbusters this week but, in this day and age, you can't really count that as a negative.
Leading the charge on the PlayStation 4 and giving fans of the absurd something to cheer for is Octodad: Dadliest Catch, a game all about carrying out seemingly mundane feats as a spastic, tentacled father figure who doesn't want the world to know that he's actually an octopus. And the fact that I actually get to write such a ridiculous sentence has made me fall in love with video games all over again.
"Octodad: Dadliest Catch arrives on PS4, with a lovable hero and hilarious play, to boot," explained Sony Social Media Specialist Ryan Clements in this week's PSN launch announcement. "Help a charming octopus get through life's little challenges (like marriage) without revealing his true aquatic origins. Be warned: playing Octodad may result in fits of teary-eyed laughter. Not recommended while driving."
Also arriving on the PS4 this week, as well as the PS3 and Vita, is Cel Damage HD. This car combat game traveled under most radars when it originally released for the original Xbox and the GameCube back in the day, featuring (made up) comic book characters duking it out between the panels in a competition of vehicular carnage featuring all sorts of zany weapons. Players can enjoy races in their wild rides, but multiplayer arena combat featuring 30 weapons, 10 characters and 13 arenas is where the real action lies.
Also popping up on the PS3 this week is Defense Technica, a mech-infused tower defense game, and Soulcalibur Lost Swords. I don't doubt that that second game made more than a few ears perk up, as fighting fans have been anticipating this free-to-play spin on the classic franchise for quite some time now.
The Vita is getting even more love this week with the titles joining Cel Damage HD on the roster. First-person RPG Demon Gaze finally wages war on the portable console, alongside intergalactic, free-flying war game, Starlight Inception, and the first episode of TellTale's The Walking Dead: Season 2.
Look for all of that to arrive on Tuesday afternoon as part of the weekly PSN update.
Your Daily Blend of Entertainment News
Staff Writer for CinemaBlend.