PS4, Xbox One Controller Mods Now Available At ModSticks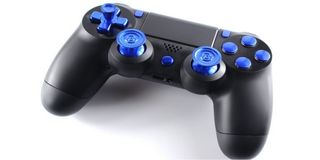 Ah, console modding has really taking off hasn't it? Back in the day, when the PSX and N64 ruled the market, you didn't quite have access to all these do-it-yourself and makeshift mods for your controllers or console (although, mod chips were still around back then). But gamers today get a much wider variety of custom and unique modifications for the way their console and controller looks and behaves. In fact, there's a new place that makes PlayStation 4 and Xbox One custom controller buttons and sticks available for a fairly decent price.
The name of the site is ModSticks and they specialize in modifying home console controllers; this means the standard buttons, analog sticks and digital pads are swapped out with something a bit flashier, a bit more creative and a bit more awesome.
You can see a brief demonstration of how the controllers look with the new sticks and buttons in place, thanks to the video below.
Now if you're the kind of gamer who buys a new controller and then realizes that you need to pimp it out like Pimp My Ride, so you can put buttons over your buttons, this ModSticks place would be a pretty nice option for you.
Heck, you could get a custom decal design or modded controller from places like DecalGirl, SlickWrap or Controller Chaos and then pimp out the controller with some snazzy new buttons or analog sticks. It's like the start of a whole new sub-culture of console mods.
Keep in mind, though, that you'll have to manually replace the buttons in your controller using ModSticks' offerings. Using options to have the buttons pre-installed on a controller would easily raise the price, but might be a better option for those of you who don't know how to perform ballet with your fingers when it comes to intricate controller maintenance.
ModSticks does, however, offer a visual walkthrough demonstration for opening up and replacing the buttons in your controller so you get the modded look you've always wanted.
Now it's time to talk price, because no one wants to throw their wallet, some food money, gas money, light bill or mortgage money at a simple set of buttons and sticks for a controller. Much to my delight, the modded buttons/sticks for the PS4 and Xbox One only cost $34.99. That's not too bad.
You can check out the new offerings for the PS4 and Xbox One by paying a visit to the official ModSticks website. If you happen to use the modded buttons, feel free to let us know how well they work.
Your Daily Blend of Entertainment News
Staff Writer at CinemaBlend.