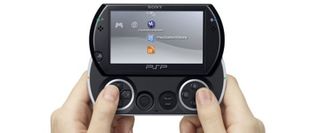 PSPGo, the digital-only model of the PlayStation Portable, is being killed off. Sony Computer Entertainment confirmed to Japanese media that they're discontinuing the handheld less than two years after its launch.
Sony told AV Watch (via Kotaku) that they won't be manufacturing or shipping new PSPGo units so that they can "concentrate on the NGP." They'll continue to sell the existing stock, though. Maybe they'll offer discounts to burn off their supply?
The PSPGo was launched in October 2009, a year after the PSP-3000. It's the only PSP model to not have a UMD drive. Instead, games are downloaded from PlayStation Store. The higher price tag, as well as the fact that not all UMD-based games were available in download form, hurt the PSPGo's ability to find an audience.
"[The PSP-3000] will continue to be sold, and we will keep focusing our attention on it from here on out," Sony told AV Watch. In all likelihood, the PSP-3000 will live on as the bargain alternative to the NGP (the PSP's successor) when the latter launches in late 2011.
Your Daily Blend of Entertainment News
Staff Writer at CinemaBlend.