Pac-Man Championship, Jon Stewart And Gyruss On Xbox Live, Oh My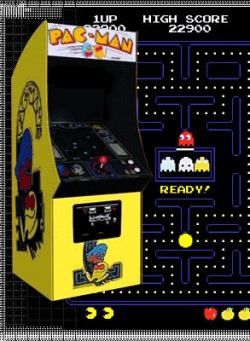 Seems like a lot for one story. But we've received quite a bit of news from Microsoft in such a short period of time, we figured the significant stories, the so-so stories and the little stories might make up for one big...waste of time. No I'm kidding. Keep on reading to find out with all of the above have in common.
Aside from being exclusive digital forms of content found on Xbox Live, Pac-Man's first ever world championship, the availability of The Daily Show with Jon Stewart and The Colbert Report, along with Gyruss and 3D Ultra Mini-Golf, none of the following have anything in common. Wait, maybe Jon Stewart played the original Pac-Man at some point in his life...maybe...I don't know. Yeah, I'm sure none of the above have anything in common.
But The Daily Show and The Colbert Report will both join the 1700 plus hours of content already available on the Xbox Live Marketplace. What's more is that each show can be digitally obtained 24 hours after the television airing of each episode.
As many of you already know, Gyruss and 3D Ultra Mini-Golf will currently be available on Xbox Live's Marketplace later today. Both games will give casual and hardcore gamers some grade-A entertainment, as Gyruss brings split-screen versus and cooperative action to hardcore Macross fans across 23 distinct levels in HD 3D. 3D Ultria Mini-Golf provides gamers with three different playable themes and up to four players who can compete against each other via Live. Stylish 3D characters with snazzy animations will be playable across 36 different holes with up to 12 different obtainable achievements. For more information regarding both XBLA entrants, you can visit the Official Xbox Live Website. 3D Ultra Mini-Golf fans can also check out exclusive content on the Official 3D Ultra Mini-Golf Website.
Last but not least, Microsoft and Namco-Bandai have let loose the news of a world championship taking place exclusively for Pac-Man from April 25th to May 9th. The classic coin stealing arcade machine from the old-school gaming days will bring out only the world's best; as respect, pride and a crown being planted on your head from Toru Iwatani, creator of Pac-Man, are all at stake. Although, don't take the actual crown thing as a literal meaning, but figuratively speaking...unless you really, really need a video game design icon to plant a crown on your head. To that, I'm inclined to say you need clinical help, really.
Anyway, the top finalist from the Pac-Man world championship tournament will face off against each other as they're flown out to New York for the finals that will be taking place on June 5th. The grand prize will include some nifty items, including 26 years of free Quiznos toasted subs (one sandwich a week for 26 years, a $13,520 (U.S.) value), 100,000 Microsoft Points for games, movies and other fun content available on Xbox LIVE, and a one-of-a-kind Xbox 360 featuring a special design inspired by Pac-Man. Dang it, maybe I should enter? Those 100,000 points will go a long way in securing all those darn microtransitions that publishers are adopting to.
Still, if you really need anymore information (although I don't see why you just can't go download stuff from Xbox Live right now) you can visit the Official Xbox Live Tournament Website. Again, the tournament for a world champion Pac-Man player begins on April 25th, 2007, at 12:01 a.m. GMT (April 24, 2007, at 5:01 p.m. PDT). The tournament will run until May 9th, 2007, at 11:59 p.m. GMT (4:59 p.m. PDT), in which nine finalists will be chosen to compete in the finals taking place on June 5th.
Your Daily Blend of Entertainment News
Staff Writer at CinemaBlend.