Pirates Of The Burning Sea Joins Portalus Games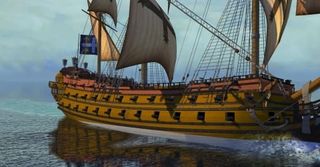 By the end of the month, starting tomorrow, Pirates of the Burning Sea, the seafaring, pirate blasting, trade-merchanting MMORPG will no longer be under the wings of Sony Online Entertainment. While it's sad that SOE is abandoning ship, Portalus Games will be taking over and reins and moving forward at full speed ahead.
Russell Williams, Co-founder of Flying Lab Software, the developer behind the MMO, took to the net waves to address the community and assuage those who may have been worried about the possibilities of Pirates of the Burning Sea, letting gamers know that the MMO would not be dead, just out of the SOE waters.
Williams commented in the player notification letter that...
Well, hopefully Portalus Games picks up where SOE and Flying Lab Software left off, turning it into a primetime MMO player once more.
If you're worried about character data and progress, take note that the official server shutdown notice is set for 10:30pm PST on January 31st, tomorrow.
You can learn more about the switch in network operators and character transfers by visiting the official Portalus Games website.
Your Daily Blend of Entertainment News
Staff Writer at CinemaBlend.
Your Daily Blend of Entertainment News
Thank you for signing up to CinemaBlend. You will receive a verification email shortly.
There was a problem. Please refresh the page and try again.