PlayStation Now PS3 Beta Launches Right...Now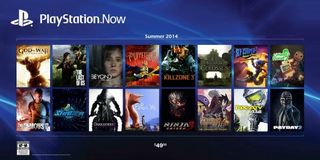 Sony's streaming rental service, PlayStation Now, is finally coming to the PlayStation 3, giving gamers a chance to dive into loads of games at a discount, without the need to buy a physical copy or actually download the game. It's all streaming, baby. Welcome to the future.
Announced last year, PlayStation Now hit the PlayStation 4 in beta form just a couple of months ago, giving select players a chance to test out the service, strain those servers, etc. Just over a month ago, the beta opened up to everyone on the platform.
Starting today, Sony has announced that PlayStation Now will enter into open beta for the PlayStation 3, available to gamers in the contiguous United States and parts of Canada.
For those unfamiliar with PlayStation Now, it's a streaming service that lets you snag titles from a library of games at a rental fee. One of the benefits to the service is that you can play a game for however long you see fit, and since it's streaming, you'll never have to download a patch. Everything will be ready to roll as soon as you rent a game, so long as your internet connection is sound.
Quite a few folks have complained that chunks of the Now pricing structure are a bit hefty, but I honestly don't see it. As mentioned in today's PS3 beta announcement, the service allows you to get a game for a variety of time periods that equal out to about a buck a day. It's not for everyone, but for folks who have tiny hard drives, who move through games quickly or want to try out a title before grabbing the full version, it seems like a pretty decent bargain to me.
Hear a game you're interested in only lasts about five hours? Rent it for a couple days and clear it at a fraction of the regular cost. Looking to get the latest Call of Duty but don't know if you'll enjoy the online multiplayer? Take it for a spin over the weekend and decide if the full purchase is worth it. Tired of downloading, patching or filling shelves with physical games? PlayStation Now seems like a convenient alternative.
The PS Now offerings will be integrated into the regular PlayStation Store, viewable from your home console. The current list of titles is 150 strong and growing, including upcoming games God of War: Ascension, inFamous and Ultra Street Fighter IV.
"We are still in the early days of PS Now, but it's been great to hear from users that have been pleased with the service's performance," said SCEA VP of Platforms Marketing, John Koller. "…The service is still growing and evolving based on the feedback we've received from PS Now users. We recently reduced the pricing for select four-hour rentals, and we are still working toward a PS Now subscription option."
Staff Writer for CinemaBlend.