Pokemon Finally Partners With Hulu For Shows, Movies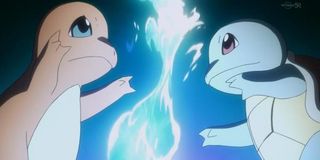 Gamers have been "catching 'em all" in Pokemon video games for quite a number of years now and, for just about as long as they've been playing the games, trainers have been able to watch the adventures of everybody's favorite pocket monsters on TV, too. And now those animated adventures are finally coming to Hulu, complete with some recent seasons, movies and even the recently released Origins four-part special.
This morning, Hulu and The Pokemon Company International announced a partnership that would finally bring the beloved series to both the regular streaming service, Hulu, as well as the premium offering, Hulu Plus. This deal includes oodles of episodes of the Pokemon series, full-length movies and more, beefing up the Hulu Kids' library with Charizard, Pikachu and the rest of those adorable, oddly violent critters.
If you're a vanilla Hulu users living in the U.S., then you can now get your hands on the Pokemon Origins animated special, as well as five episodes from the first season of the Diamond & Pearl story arc. According to the press release, even more episodes from that same arc will be added over time, as well as the first two episodes of the brand new XY series.
Your options are a bit more varied if you're rocking Hulu Plus. You'll be able to watch the entire first season of the Diamond & Pearl story arc, which is season 10 of the series, as well as seasons 11-13 "soon." You'll also get to watch the four-part Origins special, as well as the movie, Pokemon: The Rise of Darkrai. Three other movies will eventually be added for Plus subscribers, including Giratina & the Sky Warrior, Arceus and the Jewel of Life and Zoroark: Master of Illusions. You'll also get to see those first two episodes of XY and, we're assuming, new episodes of the series as they become available. It's easily something that may appeal to anyone who wants more out of the Pokemon universe or someone who just likes good old fashioned monster battling.
Pokemon fans new and old will likely want to check out that Origins series at the very least, as it reveals the untold (in animation, anyway) first story of Pokemon taken from the games library.
"Pokemon Origins is a four-part animated special that tells the story of the very first Pokemon video games, Pokemon Red Version and Pokemon Blue Version," reads the announcement. "AS the hero, Red sets off from Professor Oak's laboratory to explore the Kanto region. He'll encounter the iconic and villainous Team Rocket, battle his rival, Blue, and challenge the Pokemon League."
If that got your little Poke-heart going pitter-patter, then head on over to Hulu (opens in new tab) and get to watching.
Staff Writer for CinemaBlend.
Your Daily Blend of Entertainment News
Thank you for signing up to CinemaBlend. You will receive a verification email shortly.
There was a problem. Please refresh the page and try again.