The New Pokemon Games May Include Transportation, Here's What We Know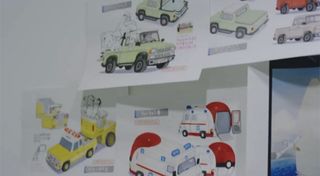 There are a lot of new details that spilled out of the latest Nintendo Direct today. The Big 'N' revealed some of the new content that's inbound for their newly announced Pokemon Sun and Moon for Nintendo's 3DS this fall. One of the big new surprises is that vehicles could be on the table.
Game Informer did a breakdown of some of the new content that they hinted at in the Nintendo Direct, including concept art of what appears to be Pokemon-themed vehicles. One vehicle they pointed out contained a Blastoise on the back working as a water dispenser... possibly in place of a standard firetruck's water hose. Another bit of concept art covers a pickup truck with a few Pokemon in the back while a driver and passenger sit up front.
The concept art gives the impression that both vehicles might be operable by the player, given that the pickup truck was empty in one piece of concept art. This hints at the possibility of players using transportation as a way to get around the world of Nintendo's Pokemon Sun and Moon.
There's also a mobile Pokeball vehicle...it looks like it may be some kind of medical mobile transport but it's difficult to tell. The descriptions of the vehicles are in Japanese so it's not really possible to know for sure what they're referring to.
In addition to teasing some new vehicles for this upcoming Pokemon title, the screenshots also hint at some new locations for players to visit, including a posh looking hotel type building that Game Informer suspects could be a gym.
They also show a brand new designed Pokemon Center, where players will go to get information and support for their captured Pokemon. The renders even take a journey inside to showcase what the interiors may look like. It's all very elegant and exceptionally detailed to be a Pokemon game.
This kind of leads to the next question: could Nintendo actually make the leap and utilize some of these high-quality concepts and turn them into high-quality assets for a port on the Nintendo NX? I know it's a wild bit of speculation but we know absolutely nothing about the Nintendo NX, other than that Nintendo will unveil some new details later this year, presumably during E3.
As for the upcoming Pokemon title, the game is likely going to be big news in the sales circuit. Gamers are already excited about what Nintendo plans on doing when it comes to introducing new Legendary Pokemon and what new content they could include besides the possible inclusion of brand new transports.
Previously, gamers had to settle with riding around town on a bike, and while it sufficed for getting from here to there in a decent manner, it wasn't the best form of speeding through the streets to cover territory quickly.
Of course, we still don't know for sure if the transports will actually make the cut into the final version of the game. A lot of times concept art is just that... concepts. We'll see if Nintendo reveals more as Pokemon Sun and Moon near their fall release date for the Nintendo 3DS.
Your Daily Blend of Entertainment News
Staff Writer at CinemaBlend.