Pokemon To Get Classic Re-Release Bundle For 2DS In Europe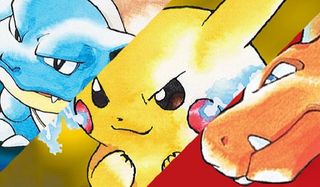 It looks like Japan isn't the only place to get your hands on those special edition Nintendo 2DS bundles themed after the relaunch of Pokemon Red, Blue and Yellow. They're coming to Europe, too, and Nintendo has even released a new trailer to celebrate the occasion.
Wow, Pokemon certainly has come a long way over the past 20 years. It's been a card game and a hugely successful video game series. The series has launched loads of popular animated series, as well as a movie franchise that continues to this day. There are an unfathomable number of toys based on the pocket-sized monsters, and Pikachu was even selected as the Olympic mascot for Japan a few years back. Oh, and then there are all of those games that wouldn't exist without Pokemon, like Digimon and the far more recent Yo-Kai Watch.
So, yes, Pokemon is kind of a big deal, which explains why Nintendo is going so far to celebrate the series' second decade of dominance with a set of special console bundles that, at present, are only shipping to Japan and Europe. But that doesn't mean the U.S. is being totally ignored.
All three of the original Pokemon games will launch next week on February 27 for the Nintendo 3DS in all territories. If you haven't taken the plunge with one of Nintendo's new consoles just yet, though, your patience is being rewarded in the form of new Pokemon bundles for the 2DS (basically does everything the 3DS does but, you know, without that third-dimension). Again, those 2DS bundles are only confirmed for Japan and Europe at the moment but, last month, we learned that a 3DS bundle featuring a Pokemon-themed cover and a copy of Red and Blue pre-loaded on the hardware will arrive in the States.
As for you European readers, the red, yellow and blue 2DS bundle will be offered starting February 27 as well, each one including a copy of its respective version of the original Pokemon game. The main difference between Red and Blue are the Pokemon you'll encounter, and Yellow allows you to pick a Pikachu of your own early on and take advantage of the game's futuristic "color" setting.
The above trailer, along with announcing the European release of the bundles, is basically a love letter to fans of the original games. It shows off many of the series' firsts, including selecting your very first pocket-sized monster, your first battles, meeting Team Rocket and even discovering the first legendary Pokemon, Mew.
The only thing we don't really know just yet is how much these re-launches of the classic games will cost when they arrive on the Nintendo e-Shop next week, for those of us who just want to pick up the game. Most old-school Game Boy games go for around five bucks. We have a sneaking suspicion, though, that these games will have a Pokemon tax attached. They do offer wireless battles and trading, after all, so it isn't like they're a direct port like most of those other Game Boy games on the eShop.
So tell us, readers, are you planning on trying to catch 'em all again? Let us know in the comments below. Fingers crossed that those new 2DS bundles will make their way Stateside,too.
Your Daily Blend of Entertainment News
Staff Writer for CinemaBlend.