Pokemon Show And Movies Heading To Netflix Streaming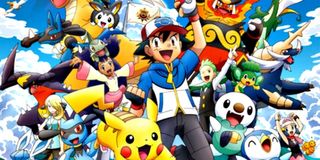 You wanted Pokemans? Well, now you've GOT Pokemans. The Pokemon Company International and Netflix today announced the impending launch of everyone's favorite television series starring pocket-sized monsters on Netflix streaming. Look for it starting March 1 or, for those of you without a calendar handy or no real sense of time, this Saturday.
Earlier this year we announced that the Pokemon TV series, along with several movies, would be making their way to Hulu Plus. Well, now it looks like another premium streaming service has gotten in on the catch-em craze as Netflix looks to follow suit in just a couple days.
"Netflix members can instantly stream Pokemon animation, featuring aspiring Pokemon Master Ash and his trusted Pokemon partner, Pikachu, as they embark on adventures through two popular seasons of the animated series and two action-packed feature films," reads the official announcement.
The series soon to arrive on Netflix is none other than Pokemon Black & White, one of the more recent iterations of the show featuring loads of new Pokemon, a new region and new enemies to best in battle. Pokemon Black & White will launch in all Netflix territories this Saturday, March 1, alongside the first season of Pokemon: Indigo League, which will be available in the US, Canada, the UK and Ireland.
But wait, there's more!
"Pokemon fans in all Netflix territories can also catch Ash, Pikachu and their friends in the dual movies Pokemon the Movie: Black—Victini and Reshiram, and Pokemon the Movie: White—Victini and Zekrom," reads the announcement. "When Ash and his friends enter a battle competition in Eindoak Town, they meet the Mythical Pokemon Victini, who becomes their newest friend."
It wouldn't be a very good movie if something didn't go horribly wrong, however, so of course this evil dude named Damon has to come around and capture Victini, using his powers to carry out his own evil plans.
It's pretty interesting that, for the most part, the Netflix and Hulu Pokemon offerings are pretty different. Most of the series each is offering are different, as are the movies. So here's hoping you have a subscription to both services if you're looking to maximize your Poke-watching abilities. To learn more about Netflix, including its streaming options, be sure to drop by the official website (opens in new tab). And don't forget that you can use the Netflix streaming app on the majority of your gaming consoles, including the Wii, PS3, 360, Wii U, 3DS and Vita.
And now, because you've been such a good audience, I give you "Pokemon Meets Metal." Enjoy!
Your Daily Blend of Entertainment News
Staff Writer for CinemaBlend.