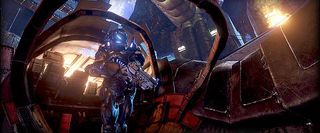 The sequel to sci-fi shooter Prey may never see the light of day. A new report suggests that publisher Bethesda will announce the cancellation of Prey 2 sometime next week.
Rumor of the cancellation comes from Netherlands gaming site PC Focus. They add that Human Head, developer of Prey 2, was supposed to present at GDC but had to cancel a few weeks before the conference. That, along with the overall lack of news on the game, makes a cancellation seem likely.
Prey was released in 2006. It stood out in the crowded shooter market due to its unique portal and gravity manipulation mechanics. Players were also able to detach their character's spirit in order to reach areas inaccessible to his physical body.
Prey 2 was announced almost exactly a year ago. It was said to continue the story of the original game and introduce open-world exploration. Its release was slated for second or third quarter of this year.
"Thanks for reaching out. We aren't commenting on this story," Bethesda said when asked about the rumor by VideoGameWriters.
The last we saw of the game was a flashy cinematic trailer from E3, below. It certainly piqued our interest so hopefully the game is simply delayed or shelved rather than killed outright.
Staff Writer at CinemaBlend.
Your Daily Blend of Entertainment News
Thank you for signing up to CinemaBlend. You will receive a verification email shortly.
There was a problem. Please refresh the page and try again.