Project Eternity Raises Nearly $4 Million On Kickstarter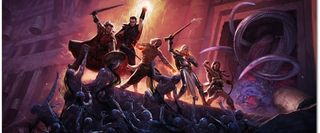 Obsidian Entertainment's PC RPG Project Eternity had an amazing month of fundraising on Kickstarter. The drive just ended with a total tally of $3,986,929 raised through the crowdfunding website.
The initial fundraising goal for Eternity was $1.1 million. After easily attaining that amount, Obsidian announced various stretch goals for the extra funding. Crafting, player housing, new character classes and Mac and Linux versions are among the additional features that the money will be used for.
The final stretch goal for $4 million was to "enhance the whole game." Obsidian said they would add developer commentary and live instrumentation for the soundtrack among other things. While they didn't reach $4 million via Kickstarter, they did get an additional $140,000 through Kickstarter to put them well over the goal. Expect those extra features, then.
Project Eternity is modeled after retro Dungeons & Dragons RPG's like Baldur's Gate or Icewind Dale. Players will control a party of characters in a medieval fantasy adventure. Combat is real-time but can be paused so you can strategize and queue up attacks.
The expected delivery date for Eternity's Kickstarter incentives is April 2014. That seems to be the release window, but who knows if that still applies now that the game's scope has been widened so much with all that extra money.
Staff Writer at CinemaBlend.
Your Daily Blend of Entertainment News
Thank you for signing up to CinemaBlend. You will receive a verification email shortly.
There was a problem. Please refresh the page and try again.