Prototype 2 RADNET Edition Provides 55 DLC Packs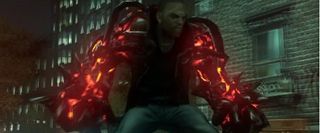 Radical Entertainment has decided to reward gamers who pick up Prototype 2 early. Launch copies of the console versions will be called the RADNET Edition and contain a voucher for several pieces of downloadable content.
The code included with the game gives you access to the RADNET, an in-game network providing new content. Radical plans to release 55 pieces of DLC over the course of seven week. This DLC will include "in-game Events, Challenges, Avatar Items, Dynamic Themes and Behind-the-Scenes videos" as well as new Mutations for the main character.
The RADNET sounds similar to the the Cerberus Network from Mass Effect 2. The principle difference is that RADNET will be releasing more numerous, but smaller, updates to the game. The goal of both in-game networks is the same, though: to encourage players to buy new copies of the game at launch. If you end up buying a second-hand copy of Prototype 2 without the voucher code, you'll no doubt need to pay extra to get access to RADNET.
"Radical Entertainment has always focused on bringing long lasting fun to its fans, and Prototype 2's RADNET content is our way of rewarding the game's most loyal supporters — the early adopters, the one's who will replay it over and over again," said Ken Rosman, Radical Entertainment studio head. "We think this is great because we're giving our fans hours of additional gameplay outside Prototype 2's main narrative, and cool rewards — all delivered weekly following the game's launch!"
Prototype 2 will launch on April 24th for the Xbox 360, PS3, and PC.
Your Daily Blend of Entertainment News
Staff Writer at CinemaBlend.
Your Daily Blend of Entertainment News
Thank you for signing up to CinemaBlend. You will receive a verification email shortly.
There was a problem. Please refresh the page and try again.