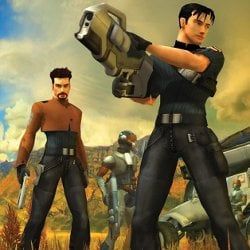 Good Old Games and Majesco Entertainment announced an agreement today to bring some of Majesco's older titles to the retro gaming store. The first two available for digital purchase are Psychonauts and Advent Rising.
They're two very different games. Psychonauts, designed by Brutal Legend studio Double Fine Productions, is a psychedelic action platformer game in which a promising young psychic must jump into the minds of others to help them battle their inner demons. Advent Rising is a sci-fi adventure penned by Orson Scott Card. Rookie space pilot Gideon Wyeth must defend humanity from a dangerous alien race known as the Seekers.
Psychonauts is $9.99 while Advent is $5.99. In time, GOG plans to add at least two other Majesco games - BloodRayne and BloodRayne 2 - to its catalog.
Your Daily Blend of Entertainment News
Staff Writer at CinemaBlend.