Razer DeathStalker Ultimate Keyboard Announced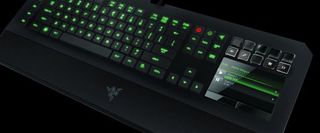 We already reported on a brand new gaming headset coming out of this year's GamesCom but a headset isn't complete without an awesome keyboard and mouse attachment. So Razer, being the good peripheral manufacturer that they are, announced a brand new die-hard gaming keyboard called the Razer DeathStalker.
The keyboard sports some awesome features despite being named after a cheesy-as-a-Ritz factory movie from the 80s also called DeathStalker. Even though that movie was crappy there were a few good parts in there worth watching and it wasn't the bad dialogue, horrible fight scenes or cliched plot. Anyway, the DeathStalker keyboard features 10 dynamic, tactile keys for custom binds or macros, an information based LCD panel and even cloud-based saves, which is perfect for tournament play.
Robert "RazerGuy" Krakoff, president of Razer USA commented about the new features of the DeathStalker Ultimate keyboard, saying...
The keyboard's Switchblade UI capabilities are already fine-tuned for Star Wars: The Old Republic, so for those of you who haven't bailed on the game already, you can get DPS counters, heal-rates, and more statistics using the display panel.
There's also a 10-key anti-ghosting feature that enables you to smash and press in as many keys as your fingers can reach across the keyboard without worrying about the buttons not registering. 10-key ghosting also makes a lot of sense considering that if there were anymore than 10 then it means you're probably playing with both hands and a few of your toes, too.
You can check out a complete list of the keyboard's capabilities below or look for it to launch at the $79.99 price tag at the end of the year, which is definitely a heck of a lot cheaper than the Mad Catz S.T.R.I.K.E. 7 gaming board. There's also a few screenshots for your perusal below so you have an idea of what the DeathStalker looks like at all angles. For more info feel free to visit the Official Razer Website.
Features
4.05" touch screen able to run widget apps
Track pad with gesture support
10 dynamic display keys with 80hz response time
Chiclet style key caps
Tri-colour backlit keys
1000Hz Ultrapolling
Fully programmable keys with on the fly macro recording
Razer Synapse 2.0 enabled
Dedicated Gaming mode
5 additional macro keys
Anti-ghosting capability for up to 10 simultaneous key presses
Braided fiber cable
Fixed wrist rest
Image 1 of 5
Your Daily Blend of Entertainment News
Staff Writer at CinemaBlend.