Razer Says There's Something Terribly Wrong With The Gaming Industry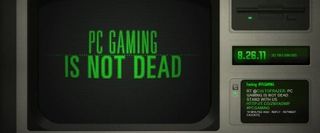 And here it is I thought I was the only one living in a bubble where it felt like today's generation of gaming was basically a shiny coat of paint over stuff we've been playing since the early 00s. Well, if you felt the same way then you're not alone and it's not just us small gaming news websites and enthusiasts either. Gaming peripheral company Razer wrote an open letter to Sony, Microsoft and Nintendo about the stagnating situation of the gaming industry in the Wall Street Journal, saying that PC gaming is not dead and that they have big plans come August 26th at PAX in Seattle, Washington.
The entire gist of the message plays out like it's begging to go viral. And, it should. It's currently looping over at an oddly hypnotic PC Gaming Is Not Dead Website, where they basically give us an audio (and visual) rundown of what's wrong in today's gaming society, outlying the message with "there is something terribly wrong with gaming today". Everything they say is something that intelligent gamers and indie devs have been griping about for some time: shoddy, rushed ports, lack of innovation, closed systems, the works.
Newbie gamers 15 years and younger probably have no idea what the grumblings are about in today's interactive digital entertainment industry because they aren't old enough to remember the spurts of transitional evolution that brought gaming to where it is today, or the lack of evolution if you count today's generation.
Back during the 80s, 90s and early 00s, just before the Xbox 360 hit the market in 2005, things were a lot different. Rehashes and milking still existed, but certainly not the way it does today. Innovation just isn't on the backburner for most publishers it practically almost doesn't exist save for a few titles every once in a blue moon.
I'm hoping Razer isn't just pulling the legs of gamers for some cheap controller cash-in on a viral gimmick, which would be a real letdown. But hopefully it's something legit. We'll keep you posted when August 26th rolls around. In the meantime, feel free to check out the Official PC Gaming Is Not Dead Website.
Staff Writer at CinemaBlend.
Your Daily Blend of Entertainment News
Thank you for signing up to CinemaBlend. You will receive a verification email shortly.
There was a problem. Please refresh the page and try again.