Read Earthbound Creator's Touching Farewell To Satoru Iwata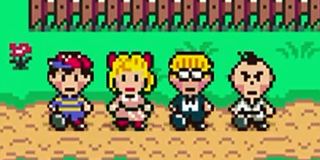 Since Nintendo president Satoru Iwata passed away this weekend, developers throughout the world have been saying goodbye in their own ways. One of the most touching tributes was a letter penned to Iwata by Earthbound creator Shigesato Itoi.
If you're the crying kind, you might not want to read the letter at work. It's a definite tear-jerker from the get-go. The letter, broken into three blockquotes below, were translated from the original Japanese by KameDaniRyuu:
Let's dry your eyes with some background on these two. Itoi and Iwata first began working together back in the early 1990s. Itoi's company Ape had been developing Earthbound (released as Mother 2 in Japan) for four years and while many of the individual parts of the game were completed, it didn't work. Iwata, then president and programmer at HAL Laboratories, stepped in to help.
"If we used what you have now and fix it, it will take 2 years," Iwata told Itoi, according to an interview from 2013. "If we can start fresh, it'll take half a year."
As predicted, Iwata and his team at HAL Laboratories reprogrammed the game from square one in half a year. Then, after the two companies polished the game for an additional six months, it was ready for release.
While the game received mixed reviews at launch, it's since become a cult classic for RPG fans. Many enjoyed its surreal take on American society, quirky humor and deviation from the usual medieval fantasy settings that characterized most SNES role-playing games. When the game was re-released on Wii U in 2013 after years of waiting, most critics agreed that the game still held up.
In addition to being a great game, Earthbound was the start of a friendship between Itoi and Iwata. The two remained in touch throughout the years even though their careers went in very different directions.
Iwata passed away at age 55 due to bile duct cancer.
Staff Writer at CinemaBlend.
Your Daily Blend of Entertainment News
Thank you for signing up to CinemaBlend. You will receive a verification email shortly.
There was a problem. Please refresh the page and try again.