Nintendo President Satoru Iwata Dead At 55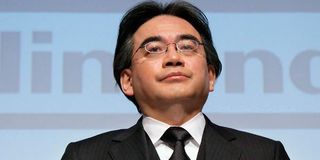 Nintendo president Satoru Iwata is dead at the age of 55. The company revealed his passing in a brief statement sent out on Sunday night:
You may remember that Iwata skipped E3 2014 because of illness. Soon afterward, he underwent surgery to remove the tumor on his bile duct. Observers noticed that he appeared thinner in later public appearances. However, he released a statement that September assuring everyone that he felt better:
Satoru Iwata was a no-show at this year's E3 as well. Nintendo downplayed any concerns about his absence, though. They said he was skipping the convention because he was focused on "other areas of our business that require his presence in Japan." In retrospect, though, it seems likely that health issues were a factor.
Iwata began his career in game development as a programmer for HAL Laboratory. While with the company, he worked on now-iconic games like Earthbound and the Kirby series. Iwata rose through the ranks of the company and became president in 1993.
In 2000, he joined Nintendo as head of corporate planning. He then succeeded Hiroshi Yamuachi as president of the company in 2002. He took on CEO responsibilities as well in 2013.
His tenure was marked by ups and downs. The GameCube, released in 2001, failed to recreate the colossal success of the Nintendo 64. The console wound up being the third best-selling console of its generation, behind Sony's PS2 and Microsoft's Xbox. However, the Wii and DS took the console and handheld markets by storm a few years later. The Wii was especially revolutionary in how it brought console gaming to millions of people who never bothered picking up a controller before.
The Wii U didn't have the same impact on the market. Right now, it seems that the company's going to end the generation in third place again. Some called for Iwata's resignation due to its low sales. It's possible that the Nintendo NX or the company's long-overdue plans for mobile game development could have righted the ship. Unfortunately, Iwata won't be able to see the company through their potential comeback.
While there's bound to be debate over Iwata's decisions as president, this isn't the time for it. Rest in peace, Satoru.
Your Daily Blend of Entertainment News
Staff Writer at CinemaBlend.