Real Pokemon Gym Opening In Japan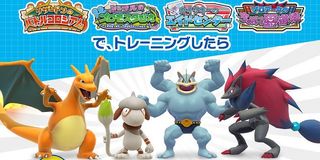 A real life Pokemon gym is opening in Japan next month, finally offering fans of the beloved monster catching series a chance to step foot in a location that has been a series staple since the very beginning.
Honestly, I'm more shocked by the news that something like this hasn't already popped up in the past couple of decades. Pokemon have become a worldwide phenomenon, so having a fun souvenir shop/arcade/mini amusement park themed after the critters seems like a no-brainer.
According to a recent report from Siliconera, Sanoyas Interaction have announced the first such facility, which will open in Osaka on Nov. 19. This "Pokemon EXPO Gym" will apparently not only be a fun attraction for folks who have grown up playing the Pokemon games, but also an educational resource for the younger crowd.
Pomekon EXPO Gym will basically be a 3D encyclopedia on all things Pokemon, offering tips on using abilities, stats, as well as interactive games that encourage everyone to be active, play with virtual Pokemon and each other.
Attractions that were listed in the original story include Charizard's Battle Colosseum and Gardevoir's Control Score, both of which are being billed as "edutainment" games. For you collectors in the audience, you'll be happy to know that your rewards for playing these games will bleed over into the popular video game series, too, including downloads of special 'Mon for both Pokemon X/Y and Pokemon Omega Ruby and Alpha Saphire. Of course, you'll also be able to by membership cards and other exclusive content, making the Pokemon EXPO Gym a must visit for fans on their next trip to Japan. Heck, I wouldn't be surprised if this encourages some diehard folks to travel to japan specifically for a visit.
At this point, Pokemon might as well be real. We've already got a mobile game coming down the pipeline that lets you catch, train and trade the critters through altered reality, and now we've got the first legitimate Pokemon Center popping up in Osaka in just under a month. I suppose we should count our lucky stars that a series like Silent Hill hasn't risen to Pokemon-level acclaim. That's probably a universe best left in the video games.
Of course I'm 100 percent incapable of talking about "real" Pokemon without bringing up the trailer for Pokemon: Apokelypse, which could very well foreshadow the dark and dangerous future we're currently creating for ourselves.
Staff Writer for CinemaBlend.
Your Daily Blend of Entertainment News
Thank you for signing up to CinemaBlend. You will receive a verification email shortly.
There was a problem. Please refresh the page and try again.