Renaissance Heroes Announced, 16th Century FPS From Huxley Devs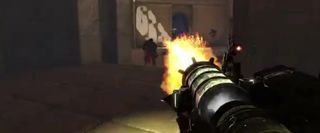 If you thought we just weren't getting enough first-person shooters, the minutes, hours and days of fretting are over with because a brand new FPS is coming to you this year from the same minds who didn't bring you Huxley.
Bridea, the developers behind the indefinitely suspended FPS Huxley, is teaming up with ChangYou for the 16th-century based FPS, Renaissance Heroes. The game lets players take on the role of various character classes as they battle it out in fast-paced, arcade-style combat using not-so-realistic weapons from the 1500s.
Michael Powers, Senior Producer at ChangYou.com commented on the game's recent announcement, saying...
You know, when they announced "16th Century" I was expecting, I don't know, weapons actually from the Renaissance era? Maybe pistols that take two whole minutes to reload and rifles cumbersome and inaccurate enough to make shooting fish in a barrel a precision exercise that even a rocket scientist with an overlapping frontal lobe rage like a baby with a dirty diaper?
Nevertheless, the game looks fast-paced and almost has an identical art-style to the second generation Assassin's Creed games. The environment designs, lighting and characters all look very interesting, though.
A brief list of the game's features can be viewed below, along with the game's official debut teaser trailer. You can sign-up to participate in the game's beta right now by paying a visit to the Official Renaissance Heroes Website.
Renaissance Heroes Features:
• The beautifully re-imagined world of the 16th century Renaissance period powered by the advanced Unreal Engine 3 technology with characters, weaponry and locales all elegantly designed to reflect the regal atmosphere of the time.
• Competitive multiplayer environments of up to 12 players, including popular game modes such as Deathmatch, Team Deathmatch and Capture the Flag. The game features a comprehensive ranking system as well as over 100 unlockable achievements!
• A roster of playable heroes, each with their own unique visuals and abilities to suit different play styles.
• An arsenal of over a dozen of Renaissance-inspired weaponry familiar to any FPS fan. Snipe opponents from a distance with the crossbow or crush them at close range with a battle hammer.
• Enhanced A.I. bots, in-game currency and experience reward system provide challenges to level up your character.
Staff Writer at CinemaBlend.
Your Daily Blend of Entertainment News
Thank you for signing up to CinemaBlend. You will receive a verification email shortly.
There was a problem. Please refresh the page and try again.