Resident Evil 4 Coming To Wii U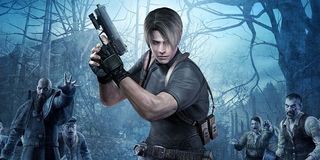 It looks like Wii U gamers are getting a Halloween treat from Nintendo this week, with Resident Evil 4: Wii Edition arriving on the European eShop just in time for the spookiest night of the year.
Hailed by many to be the best game in the series, Resident Evil 4 sees series veteron Leon Kennedy attempting to save the President's daughter from a sleepy burg that's being overrun by a terrible virus that's turning villagers into all sorts of horrific creatures. Standard zombies are the least of your worries when you've got dudes' heads exploding into tentacle monsters and lakes serving as home to giant undead alligators.
Sadly for gamers in the US, there's no word on a local version of the game for Wii U just yet. According to the Nintendo of Europe Twitter feed, that region is the only one slated to receive the game at this time.
The tweet explains that Resident Evil 4: Wii Edition will be available on the eShop starting Oct. 29, with a 25 percent discount for anyone who buys it between then and Nov. 11.
In case you need a reminder of what a good Resident Evil game looks like, here's a little something to clap your peepers on.
When Resident Evil 4 originally launched, it revolutionized the series with more open maps, enemies that react to the player (dodging out of the line of fire, for instance) and more dynamic worlds for everyone to explore. It had a light but solid cast of characters and a lengthy run time, too.
That was, of course, the GameCube version of the game. The Wii version added in some sweet motion-controlled aiming and whatnot, making the game even more fun to play.
Again, it's a little strange that Nintendo hasn't made an announcement for the game in other territories yet. Well, it would be strange if Nintendo didn't do stuff like this all of the time. I have to imagine that lining up a U.S. release of Resident Evil 4 for the Wii U wouldn't take all that much effort, so fingers crossed that we hear some good news in the coming days.
If Uncle Nintendo doesn't come through in the end, though, what's everybody planning on diving into this Halloween week? More of the same or are you planning on playing something specifically for the holiday? Let us know in the comments below.
Staff Writer for CinemaBlend.
Your Daily Blend of Entertainment News
Thank you for signing up to CinemaBlend. You will receive a verification email shortly.
There was a problem. Please refresh the page and try again.