Heroes Of The Storm Hallow's End Event Will Bring New Rewards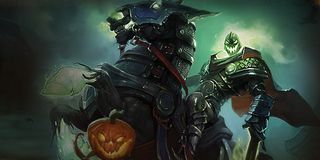 World of Warcraft won't be the only game celebrating Hallow's End. Fellow Blizzard game Heroes of the Storm will also have their own Halloween-ish event to let players earn new rewards.
Blizzard will kick off Hallow's End in HotS on October 27 at 10 AM PDT with a bonus XP event. Any matches that reward XP will give you an additional 50% until 10 AM PDT on November 3.
The full event will apparently run until November 17, though. Players will be able to earn a Jack-O'-Lantern portrait for their account by playing 25 games during that period. You'll be able to see your progress toward this goal through a special quest in your log.
Two new items will go on sale during Hallow's End. The Headless Horseman's Charger Mount is a ghostly horse inspired by a Hallow's End reward from WoW. Buccaneer Falstad turns the gryphon-flying dwarf into a pirate riding a parrot:
Blizzard will offer these items in two Hallow's End bundles. One comes with just the new items, while the other includes some other ghoulish content previously released in the game:
Hallow's End Ultimate Bundle ($53.04 USD)
Countess Kerrigan Skin
Abathur
Skelethur Abathur Skin
Falstad
Buccaneer Falstad Skin
Headless Horseman's Charger Mount
Hallow's End Bundle ($21.35 USD)
Falstad
Buccaneer Falstad Skin
Headless Horseman's Charger Mount
Hallow's End is already underway over in WoW and will run in that game until November 1. Blizzard added a few new daily quests this year along with some new toys. For example, players can now buy a costume that turns them into Deathwing. You can find a full guide to this year's festivities over at Wowhead.
Staff Writer at CinemaBlend.
Your Daily Blend of Entertainment News
Thank you for signing up to CinemaBlend. You will receive a verification email shortly.
There was a problem. Please refresh the page and try again.