Resident Evil 6 Patch Adds Better Camera View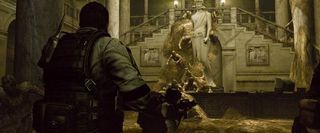 Capcom has decided to add a couple new features to the upcoming Resident Evil 6 content patch. The first is a brand-new camera option for the survival horror game.
This new view is designed for people who thought that the standard camera was too tight on the character's back. You'll be able to see more of your surroundings now. Screenshots comparing the new and old cameras are below. This feature is optional so if you like the camera the way it is, you won't have to switch.
The other new feature deals with subtitles. Players will now be able to mix English audio with subtitles in another language. This should help you brush up on your Spanish zombie apocalypse vocabulary.
This same patch, arriving in mid-December, will also add an optional co-op partner to Ada Wong's campaign. Furthermore, it unlocks this campaign so that you don't have to beat the game's other three campaigns to play it. A new No Hope difficulty setting will be introduced for more hardcore players.
Capcom has plans for premium DLC for the future as well. They haven't announced details yet but have made a point of saying this content isn't already on the game disc.
Image 1 of 4
Staff Writer at CinemaBlend.