Resident Evil: Operation Raccoon City Gets Brutal New Trailer, PC Release Date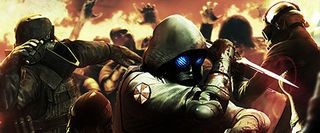 Capcom provided two big updates on their squad-based shooter Resident Evil: Operation Raccoon City today. For starters, they've released a gory new trailer entitled "Brutality."
Operation Raccoon City brings players back to the zombie-infested town seen in Resident Evil 2 and other games. However, this time you'll experience the action from a different perspective. Players control members of the Umbrella Security Service, a highly-trained and well-armed team sent to eliminate any evidence of Umbrella's involvement in the breakout.
Being corporate mercenaries, the USS team isn't bound to any sort of moral code.They'll gladly use a human survivor as a shield in battle. They're also well-accustomed to the sight of blood; the trailer shows them dispatching enemies in extremely grisly ways.
In addition to releasing the trailer, Capcom firmed up some details about the PC version. Raccoon City will hit the PC on May 18th. As compensation for making PC gamers wait two more months than console gamers, Capcom will be including NVIDIA 3D support.
Staff Writer at CinemaBlend.