Resident Evil Revelations Headlines Weekly PSN Update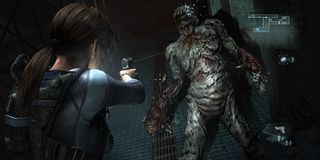 It's not every day that a portable survival horror game gets the HD treatment and ported to consoles but, this week, that's exactly what we're getting as Resident Evil Revelations arrives on the PlayStation Network alongside a handful of other titles in this week's The Drop.
Usually this whole process works the other way around as developers attempt to recreate a console gaming experience on portable platforms. With Resident Evil Revelations, however, the game was thought big enough to head in the other direction, moving from the Nintendo 3DS to home consoles, including this week's digital release on the PlayStation Network.
Set on a ship and taking place between Resident Evil 4 and Resident Evil 5, Revelations features RE vet Jill Valentine on a quest to find her former partner, Chris Redfield. There's already a demo available if you require some convincing, offering a small chunk of gameplay that lets you try out the new "scanning" mechanics and pump a few rounds into the new monsters to the series, these really nasty ocean zombies.
If you'd rather shoot bandits than the undead, Call of Juarez: Gunslinger might be just what you're looking for in a game that tells the untold stories of many of the west's wildest legends.
Fast cars more your speed? Then check out Fast & Furious: Showdown, a downloadable game featuring 31 missions for motor-heads to undertake with a team of friends or AI partners.
Strategy RPG Mugen Souls will also make an appearance this week, alongside bathroom simulator Men's Room Mayhem for the PlayStation Vita.
For more information on all of this week's releases, head on over to the PlayStation Blog. Otherwise, look for the regular weekly PSN update to arrive sometime Tuesday afternoon.
Staff Writer for CinemaBlend.
Your Daily Blend of Entertainment News
Thank you for signing up to CinemaBlend. You will receive a verification email shortly.
There was a problem. Please refresh the page and try again.