Rocketbirds: Hardboiled Chicken Coming Exclusively To PS3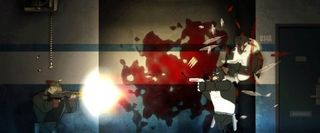 Ratloop Asia announced today that a sequel to their platform action game, Rocketbirds, is on its way exclusively for PS3 gamers. The action-movie spoof features plenty of weapons, explosives and deadly penguins and it's scheduled to release this October.
As stated in the press release…
The single-player campaign features the Hardboiled Chicken, as players will wield assault rifles, shotguns and rocket launchers to blast their way through hordes of Evil Penguins. In the co-op campaign mode two players will assume the role of commandos out to save the General's daughter while uncovering the truth behind the evil penguin regime.
The game is like a friendlier version of Klei Entertainment's over-the-top shooter, Shank. You can check out a few of the screenshots for the game below or head on over to the Official Website to learn more about the game. A list of some of the features in Rocketbirds: Hardboiled Chicken can be viewed below.
Rocketbirds Features:
• 15 Chapters in Solo Campaign – Assume the role of Hardboiled Chicken, kick a$$, kill penguins and take names on a mission to assassinate the evil penguin leader.
• 10 Chapters in Co-Op Campaign – Select a pair from the dirty half-dozen Budgie commando characters and set out on a mission to save the general's daughter.
• Puzzles: Your birdie-brain must think quickly to use your environment and solve a variety of puzzles to move on to each level.
• Stereoscopic 3D: Fantastic, non-dizzying Stereoscopic 3D support, running at 60fps/720p enhance the visuals wherever available.
• Mini-stories: The plot thickens as you unlock cut-scenes and music videos at each level that uncover the truth about the totalitarian regime and Hardboiled's mysterious past.
• Weapons: Kill penguins with a cache of guns you'll find along the way from pistols, shotguns and Uzis to MP5s, M60s and AK-47s. Bring down the regime with grenades and other explosives. Unlock the ultimate weapon – Brain Bugs!
Image 1 of 8
Your Daily Blend of Entertainment News
Staff Writer at CinemaBlend.