RuneScape Old School Hits 1 Million Players, Opens God Wars Dungeon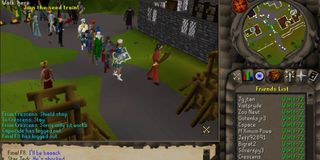 Some gamers prefer to keep things old school. I mean, just look at RuneScape Old School for example. It's got the words "old" and "school" right there in the title, it harkens back to the olden days of the online MMO and, despite newer, flashier versions of the game being available, this antiquated option just cleared the million user mark.
Despite the fact that RuneScape, as a whole, has done quite a bit of evolving over the years, the team at Jagex decided that it might be fun to offer up an older version of the game for players who prefer to party like it's 2007.
A free-to-play MMORPG, RuneScape is one of the genre's forefathers with a long and storied history. Earlier this year, the developers decided to celebrate the past by launching RuneScape Old School, a 2007 version of their hugely popular game.
Late in 2012, Jagex asked members of its community if they would be interested in an older version of RuneScape being made available once again. Either there are a lot of people who prefer the previous builds of the game or there are a lot of hipster gamers out there, because more than 450,000 players responded that they would, in fact, like the option to play such a game.
And, thus, RuneScape Old School was born. Since February the game has grown in popularity and, according to a recent announcement from the developers, has finally cleared the million player mark.
Keeping this community-driven nature of Old School alive, Jagex has continued to rely on user input to determine what additional content should be included in the game. Apparently 89 percent of users voted that they wanted a God Wars Dungeon included and, in celebration of hitting the 1 million mark, that's exactly what they're going to get.
"This release heralds in a new era of boss hunting and group gameplay," reads the statement from Jagex. "Featuring four new bosses…players have a chance of obtaining a legendary Godsword, the most powerful weapon known to Old School."
Along with this new boss rush dungeon, players will also have access to some new high level melee and range armors and weapons. In short, just because Old School is an old dog, doesn't mean it can't be taught some new tricks.
"Seeing RuneScape Old School hit the million player mark so soon after launch is a great milestone for the game and our players have joined the celebration by voting for the game's most epic update to date," said Executive Producer Phil Mansell. "Players will need to be steadfast and defiant in order to win through and defeat the gods, but if successful, players will be rewarded beyond their wildest imagination."
Mansell goes on to refer to the God Wars Dungeon as the "ultimate game of seeking treasure or die trying," something the series has become known for.
To get in on the classic MMO action yourself, visit the RuneScape Old School official site.
Staff Writer for CinemaBlend.