Ryse DLC Includes Multiplayer Maps, Mode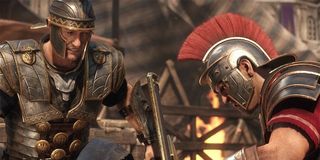 Crytek has several months' worth of downloadable content planned for Ryse: Son of Rome following the game's launch. Today the developer outlined their DLC plans and announced a Season Pass for gamers.
Ryse's DLC will focus on the game's multiplayer. In the online mode, players team up to fight enemies in the Colosseum for the amusement of the crowd. They'll have to defeat waves of foes while avoiding traps and obstacles. Using the gold they earn through these battles, players can purchase new weapons and armor to enhance their attributes.
The four DLC packs for Ryse will collectively provide 14 multiplayer maps with new level events. Players will get access to six skins and a new tier of equipment for their characters as well. Along the way a new mode will be added to the game but Crytek hasn't provided any details on it.
The Season Pass, priced at $19.99, gives access to all of the game's DLC packs as they're released. Crytek says the Pass is over 25% cheaper than buying the DLC packs individually. To sweeten the deal, they're including an exclusive sword and shield with the Pass.
Gamers who buy Ryse close to launch can get additional DLC for no charge. The Day One edition of the game includes the Legionnaire's Trust sword along with a map called "Ruins." Day One owners can invite Standard Edition players to join them in "Ruins" matches to ensure that they're not standing in the arena alone.
Season Passes became popular in the late years of this gaming generation. The appeal of these Passes is clear to publishers: it's an opportunity to sell several DLC packs to gamers at once in exchange for inexpensive incentives like a bonus item or two. Ordinarily gamers might lose interest in a title and only purchase the first DLC or so but if you convince them to buy a Pass, they're on the hook for all the add-ons.
Passes look like they'll be a popular tactic for the coming generation of games as well. Ryse's fellow Xbox One launch exclusives Dead Rising 3 and Forza Motorsport 5 will be receiving Season Passes as well. Lest you think that this is all just Microsoft's fault, note that PS4 exclusive Killzone: Shadow Fall will have a Pass of its own.
Image 1 of 3
Your Daily Blend of Entertainment News
Staff Writer at CinemaBlend.