Secrets Of Grindea Pre-Orders Available, Brings Back SNES Co-op RPG Action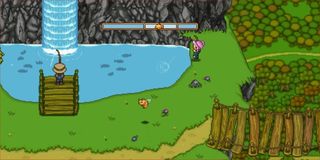 Even though we have a ton of Diablo clones recently running around on PC, one of the things that we don't get enough of frequently are hack-and-slash clones based around the bright and colorful role-playing games from the SNES era. Well, Pixel Ferrets are aiming to bring back nostalgia with some new-school gameplay mechanics, combining the aesthetics and play-features from games like Secret of Evermore and Seiken Densetsu with newer ARPGs such as Diablo and Torchlight, and it's coming to Steam.
Secrets of Grindea has recently been made available in its Early Access form, with pre-order tiers offering gamers various forms of content and goodies for a set amount of money.
The game's four-player cooperative, top-down RPG adventure setup is a huge breath of fresh air from the dark and dank atmospheres we've been tossed lately with games like Dark Souls and Diablo III. Instead the game seems to be visually inspired by the likes of Natsume's Harvest Moon and a bit of Nintendo's A Link To The Past.
But hey, don't just go by my anorexic description, it just doesn't do the meat on the game's bones any justice. Check out the video to see how the game plays out.
I would have to say that the screenshots were moderately convincing, for me, but the cooperative video footage above was like a deal-sealer.
Now, personally, I'm not going to pre-order the game (yet) because I would rather see how the feedback rolls out for the title and how well it progresses. I'm not fond of the whole Cube World situation where a game seems like it ends up in limbo for a long period of time and you're twiddling your thumbs wondering if the game will ever get updated.
But, for those of you who like what you see above and those of you who feel like you're investing in the further development of Secrets of Grindea, you can choose from 11 different pre-order tiers, starting at $15 for a Steam and DRM-free copy of the game, or going all the way up to the $2,000 tier. That's what I like to call the Xbox One-gamer tier, since if you can afford to pay for a VCR that lets you watch your own TV on your TV, you may not mind spending money to help a game get across the finish line of development.
Anyway, the more interesting pre-order tier is probably the "Jumpkin Tier" for $30 that also comes with the game's beta access and the complete soundtrack. Mmm... delicious, SNES-inspired soundtracks. Brings back sweet smells of nostalgic memories playing Chrono Trigger and Secret of Mana during bright summer days.
Anyway, you can learn more about Secrets of Grindea or pre-order the game if it seems like it fits your tastes, by paying a visit to the official website.
Your Daily Blend of Entertainment News
Staff Writer at CinemaBlend.