Section 8 Gameplay Media Blowout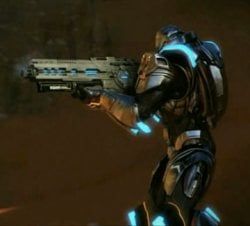 Gearing up for the upcoming release of SouthPeak and TimeGate's Section 8 for PC and Xbox 360, GameTrailers has released a series of new gameplay walkthrough videos. The new video trailers feature an in-depth look at just about all of the gameplay functions for Section 8, including character customization and how to play through the missions.
The gameplay media blowout pretty much ensures that no one walks away (or clicks out of the page) still being dumbfounded and befuddled about the FPS, team-based game, Section 8.
The first video is basically a tutorial for picking the right weapons and messing around with the passive modules that boost stats or alter the gameplay. The second video is all about burning in, setting up the battlefield advantage and what the pros and cons are of utilizing certain gameplay functions throughout the multiplayer versus battles. The third video basically just ties it all together.
The only downside to the trailers is that they don't show a lot of competitive gameplay, which could hurt how some gamers may view it. Nevertheless, the game is shaping up to be a fairly cool and original concept that just might be a surprise hit of the fall.
You can check out the trailers below or visit the Official Website for more information on the game. And remember to stay tuned in with Blend Games for further news, updates, info, and media regarding all things gaming.
Staff Writer at CinemaBlend.
Your Daily Blend of Entertainment News
Thank you for signing up to CinemaBlend. You will receive a verification email shortly.
There was a problem. Please refresh the page and try again.