Shadow Of The Colossus Movie In The Works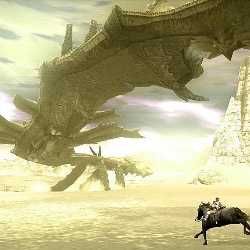 Hollywood's developed a taste for video game adaptations as of late and now they're looking to bring lesser known games to the silver screen. Sony Pictures is currently planning a film based on the PS2 action-adventure game Shadow of the Colossus.
In Shadow of the Colossus, players control Wander, a lone swordsman trying to resurrect his female companion, Mono. To do so, he must kill sixteen colossal beasts scattered throughout the vast Forbidden Land in order to free an ancient power that will enable him to bring Mono back to life. Atypical of most video games, the storyline is actually very understated; the Forbidden Land is completely devoid of enemies besides the colossi and none of these massive monsters speaks to Mono at all. His only comrade is Agro, a horse.
According to Variety, The Rundown producer Kevin Misher is heading up the project. Street Fighter: The Legend of Chun-Li screenwriter Justin Marks will pen the script. This film is obviously in its earliest stages so there's no telling when we'd see it.
Colossus was probably the most visually impressive game on the PS2 and it would be pretty awesome to see the epic battles between Wander and the colossi brought to the big screen. I've posted a YouTube video of one of these fights just to give the uninitiated a taste. The fact that they picked a game because it looks like it would be a good movie (as opposed to picking a game that has a lucrative brand name) is slightly encouraging, too. A story composed almost entirely of one lone character could be tricky to pull off, though.
Your Daily Blend of Entertainment News
Staff Writer at CinemaBlend.