Shadowrun Returns Now Slated For May Or June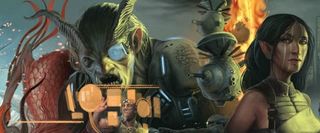 Shadowrun Returns will take longer to arrive than expected. In an update on the game's Kickstarter page, producer Mitch Gitelman said that the cyberpunk fantasy game is now slated for May or June 2013.
Returns is a turn-based RPG set in the near-future. In this game world, advanced technologies like cybernetic implants and virtual reality exist alongside magic and monsters. Players take on the role of shadowrunners, mercenaries who do the dirty work for corporations, governments and others.
The original release window for Shadowrun was January. However, Gitelman said that they need additional time due to the extra features they've added to their plans. The switch from a top-down to isometric camera also required a lot of time for R&D.
The extra features are in part due to the game's massive success on Kickstarter. Harebrained Schemes managed to raise $1.8 million through the Kickstarter page. Their goal was only $400,000 so the money above that went toward expanding the vision of the game. For example, Harebrained is planning PC and Mac versions of the RPG, and adding a second city to the game world.
Shadowrun Returns was one of the earliest success stories in the Kickstarter gaming craze so I'm very curious to see how it turns out. Whether or not it lives up to expectations may affect gamers' willingness to donate to additional gaming projects in the future.
Staff Writer at CinemaBlend.
Your Daily Blend of Entertainment News
Thank you for signing up to CinemaBlend. You will receive a verification email shortly.
There was a problem. Please refresh the page and try again.