Shinobi Coming Exclusively To The Nintendo 3DS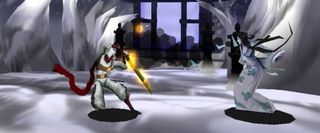 Sega has gone and done it. They've resurrected the classic side-scrolling ninja icon for the Nintendo 3DS, in an exclusive remake simply entitled, Shinobi. The game is set to release on Nintendo's handheld this upcoming September.
Gary Knight, Senior Vice President of Marketing of SEGA West, commented in the press release, saying…
If you felt like you just weren't getting enough ninja-time action on your handheld gaming devices, well maybe utilizing a three-tiered combat system with acrobatics, multi-combos and long-range ninja attacks will quell your thirst to run around in black pajamas.
You can check out the new debut trailer and screenshots for the game below, and remember to look for Shinobi on the Nintendo 3DS this September.
Image 1 of 10
Image 2 of 10
Image 3 of 10
Image 4 of 10
Image 5 of 10
Image 6 of 10
Image 7 of 10
Image 8 of 10
Image 9 of 10
Image 10 of 10
Staff Writer at CinemaBlend.