The Sims 4 Gameplay Trailer Creates A Sim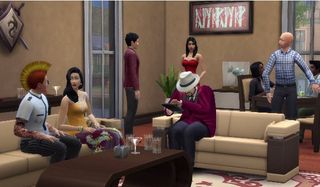 The latest trailer for The Sims 4 walks players through the Create-a-Sim feature. EA has made some important changes to how players will build these custom characters.
"Create A Sim has been rebuilt to be powerful, tactile and intuitive, making this our most approachable creative tool yet," EA said of the revised creator. "For the first time ever you will sculpt your Sims by hand, reaching directly onto your Sims to customize their appearance."
The trailer demonstrates the feature by creating Bella and Mortimer Goth. The two characters debuted in the first The Sims game and appeared in several entries since then. Guess they'll be returning for Sims 4 as well.
Past Sims games gave you a lot of control over your character's appearance. However, it also required you to flip through a lot of menus and tabs. The development team tried to make Sims 4' character creation more direct.
In The Sims 4, you can directly click on parts of the Sim and drag your mouse to adjust them. For example, clicking the Sim's leg and then dragging it outward increases the size of their thighs.
I could see these push-and-pull controls controls working well on a touchscreen. Maybe they designed Create-a-Sim with mobile versions in the back of their mind. EA previously released The Sims 3 on smartphones and tablets at the same time as other platforms. They've only announced PC and Mac versions of Sims 4, though.
This feature extends to pretty much every part of the Sim. The trailer even shows the player growing their Sim's ass. Our resident Sims expert Kelly West tells me that ass growing/shrinking is new to the series. I hope a "make your Sim's ass as large as you want!" bullet point makes it onto the game box.
After creating Bella and Mortimer, the trailer shows Sim versions of several development team members. It's a good showcase of the variety that this game's Create-a-Sim feature affords.
The trailer's light on actual gameplay. The last 30 seconds of the trailer does show the player creating a house and then hosting a party inside, though. Bella and Mortimer are there along with all the developers.
The Sims 4 will launch this fall worldwide on PC and Mac. You'll have trouble getting ahold of it if you're under 18 in Russia, though. The Russian Federation apparently has a huge beef with it.
Your Daily Blend of Entertainment News
Staff Writer at CinemaBlend.