The Sims 4: Get Together Delayed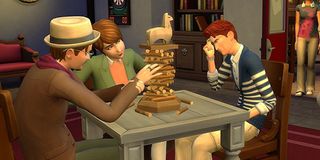 Sims fans will need to wait a bit longer to see their virtual minions "get together in really exciting new ways," as EA and Maxis today announced a short delay for the latest expansion, The Sims 4: Get Together.
The new Get Together expansion was due out this fall but, according to the Sims team, the crew is taking a bit of extra time to nail down all of the details and make sure things run as smoothly as possible, including the new world of Windenburg, some DJ and Dancing Skills for your Sims to show off, as well as the ability to create Clubs within the game.
As stated in today's announcement, the delay for Get Together isn't all that long, as you can expect it out come Dec. 8 in the US and later that same week everywhere else.
The announcement goes on to state that the extra time will be utilized to add extra polish and depth to the Sims 4: Get Together experience.
Having managed to go this long without ever playing a Sims game, I assume those are pretty exciting announcements for series faithfuls. The Don't Wake the Llama game can be seen in the image above, which is basically Jenga.
Also getting a bunch of extra attention is the new clubs coming to Sims 4, which let you set up new social experiences for your in-game inhabitants. You'll be able to create your clubs' hangouts, adding some of your own personality to the activities that take place there. A couple examples given are the Upper Crusts (Read: Snobs) and the Spin Master (Read: Ravers, likely hopped up on Goofballs and whipits.)
But while this latest addition to the Sims 4 experience won't be rolling out until December, this won't be the last you hear of it before the big launch. The Sims 4 blog promises a "whole lot more" information concerning the Get Together expansion in early November, so just hold tight for another few weeks.
So, has anyone given some thought to what types of Clubs they're going to create? Given some of the stories I've heard from friends who play The Sims, I wonder if one of the options will be a Support Group, specifically designed to help Sims cope with the bizarre experiments their sick and twisted creators put them through.
Your Daily Blend of Entertainment News
Staff Writer for CinemaBlend.