Skullgirls Expands Through Successful Indiegogo DLC Campaign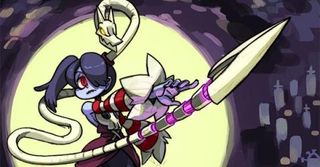 Skullgirls, one of the few original IPs to hit the console fighting scene in quite some time, recently kicked off an Indiegogo campaign to fund the creation of its first ever DLC character, Squigly. With a goal of $175,000, Squigly was funded in just 22 hours.
Skullgirls is actually one of my favorite games of 2012. It's fast-paced, beautiful and features a style all its own. Publisher Autumn Games suffered some unfortunate legal battles late last year, resulting in much of the development team at Lab Zero Games being laid off before the company could ever get rolling on their DLC plans. The team stuck it out through some tumultuous times, though, and turned to crowd funding to make Skullgirls's future a possibility.
After launching the Squigly campaign just a couple of days ago, Lab Zero's fans blazed past that initial $150,000 goal in record time. The first stretch goal has also been met, meaning that Squigly will also get her own stage and story mode added in.
If fans fan raise $375 (total) in the remaining 29 days of the promotion, then the first male fighter, Big Band, will also be added to the roster. The stretch goal of $400,000 will add a Big Band stage and story while $600,000 will allow the fans to vote on yet another character to be added to the roster.
The coolest part is that all content funded through this Indiegogo campaign will then be released to all platforms at no additional charge.
Currently at $215,074, there's just shy of a month left to reach those remaining stretch goals. To read up on oodles of background information for the campaign and see a promotional video, visit the Skullgirls Indiegogo page.
Staff Writer for CinemaBlend.
Your Daily Blend of Entertainment News
Thank you for signing up to CinemaBlend. You will receive a verification email shortly.
There was a problem. Please refresh the page and try again.