Skylanders SWAP Force Hits The US This October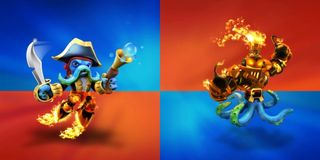 The heroes of the Skylanders series are about to get mixed and matched as Skylanders SWAP force receives a US release date of October 13th.
Announced back in February, SWAP Force takes the ridiculously successful Skylanders series in a new direction, introducing a collection of characters with interchangeable bottom and top halves. While this latest version of the toy-infused adventure series will feature 32 brand new characters, 16 of those action figures will be members of the SWAP Force, allowing players to, ahem, swap their top and bottom sections around in order to create new power, ability and mobility combinations. In total, that means there will be 250 unique combinations possible with the SWAP Force characters, meaning everyone can now play the game in a way that best suits their play style.
Along with the new characters, Activision is promising all new abilities in this latest iteration of Skylanders, including new traversal skills like flying, climbing and teleporting. Even cooler is the fact that all of the previous Skylander toys are compatible with Swap Force, which is being developed for just about every gaming machine in existence, including the PS3, PS4, Xbox 360, Xbox One, Wii, Wii U and 3DS.
With Oct. 13 set as the U.S. release date, SWAP Force is also scheduled to arrive in Australia on Oct. 16 and Europe on Oct. 18. The suggested retail price for the starter pack is $74.99, with individual core figures set at $9.99 and SWAP Force characters set at $14.99 a pop.
You can start pre-ordering the game today, June 7, which should also net you a free, undisclosed Skylanders toy in the process.
Staff Writer for CinemaBlend.