Skyrim Falskaar Mod Creator Hired By Bungie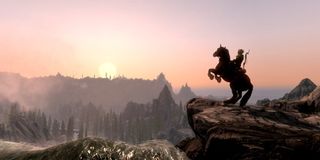 Alexander J. Velicky, the creator of the massive Falskaar mod for Elder Scrolls V: Skyrim, has parlayed the mod's success into a professional gig. The 19-year-old announced this week that he's been hired by Bungie as an Associate Designer.
Velicky has spent the past few years building mods for Bethesda's open-world RPG's. His credits include the Project Genesis mod for Fallout 3 and DEIMOS for Fallout: New Vegas. Through these mods he hoped to showcase his skills to Bethesda and get hired.
After graduating high school, he began building Falskaar for Skyrim using the game's Creation Kit. He says that he put over 2,000 hours into crafting the project. Falskaar, released this summer, provides a new region for players to explore. The mod is impressive in its scale, with two dozen quests and 20+ hours of gameplay.
Though he didn't land a job at Bethesda, Bungie sounds like a great place for him to ply his trade. The studio is currently creating Destiny, a massive online shooter.
"Modding has been ~90% of my life for over four years now, and all throughout you were there to support me," Velicky said in a post on the official Skyrim forums. "I know this will sound weird since this is an open community composed largely of random anonymous people from 'The Internet', but you're kind of like my second family. From the bottom of my heart I want to thank every person who ever provided feedback on a mod, support, help, or something as simple as a 'Cant wait!' or 'Great job.' Every single one of you made this possible. From driving me to work throughout development, to providing astounding amounts of feedback and support to help learn and improve after releases. I owe it to all of you."
Velicky says it's possible that he'll still do some modding on the side. He has a few ideas for how to improve and expand Falskaar and he'd also like to build some additional tutorials. If and when Fallout 4 comes out, he'll probably be drawn into making mods for that game as well. All these plans depend on how much free time he can carve out, though.
Regardless of how much modding he does in the future, he plans to stay part of the mod community.
"While I may not be as active as I have been in the past, I'd definitely like to hang around; providing help and input where necessary. Even if I don't continue modding the games (Which, again, I'd like to continue) I don't think I could ever completely abandon you ladies and gentlemen."
If you're interested in checking out Falskaar, you can find it at NexusMods.
Your Daily Blend of Entertainment News
Staff Writer at CinemaBlend.