Sniper Elite 3 Banned Steam Keys Get A Refund Solution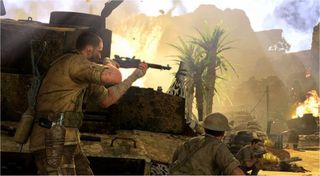 Sniper Elite 3 has rolled out onto the market in various territories for the home consoles and PC; and while the console version of the game seems to be operating as expected, there are a few problems over in the PC camp.
Blues News was tipped off to a post over on the Steam community forum where it was revealed that some Sniper Elite 3 Steam codes have been banned or revoked. The codes not being accepted by the digital distribution outlet come from third-party vendors, which might set off warning bells to anyone who decided to buy a digital version of Sniper Elite 3 for PC, outside of Steam.
The community post from Rebellion explains exactly why some of the codes have been revoked or banned from the Steam database, with the post stating that...
They further note that anyone who had purchased the game from a third-party vendor and had their game access revoked, they should immediately contact that vendor and ask for a refund. If you're unable to get in contact with the vendor for a refund or you run into other problems related to getting your money back, be sure to contact Rebellion directly about the problem.
In addition to this, in order to make up for this inconvenience, Rebellion further went and did the right thing by offering free DLC codes to anyone who pre-ordered the game and had their key revoked on Steam.
As noted in the post...
This is a really unfortunate thing, but it also seems to feed into the mentality about withholding from pre-ordering games. There is a strong sub-community within the gaming industry that encourages gamers not to pre-order games – not necessarily because of situations like this – in order to prevent publishers from capitalizing on sales of an unproven, unreleased game.
In this instance, some of the people who pre-ordered the game ended up with a dud. At least, on the upside, Rebellion went and did the right thing by offering up free codes for their DLC of the game.
Sniper Elite 3 is currently available for home consoles and PC. The reviews have been fairly positive so far, so barring this incident it may not be that bad of a game to check out.
Staff Writer at CinemaBlend.
Your Daily Blend of Entertainment News
Thank you for signing up to CinemaBlend. You will receive a verification email shortly.
There was a problem. Please refresh the page and try again.