Some Metal Gear Solid 5 Collector's Editions Are Missing DLC Codes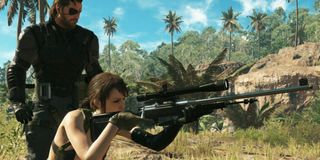 Fans who preordered the special collector's edition of Metal Gear Solid 5: The Phantom Pain for PS4 are discovering that they didn't get everything they paid for.
According to GameSpot, some Reddit users have noticed that the codes for additional bonus content in their MGS5 Collector's Editions are conspicuously absent.
This is obviously a bit of a frustrating happening, especially as the game has been one that an overwhelming amount of fans have been patiently waiting for ever since its first debut trailer. Konami is aiming to make this right, however, and is looking to get in touch with customers via email to ensure they get the codes they paid for, as they should.
As of right now it doesn't seem as though the Xbox One preorder versions have been affected, but we'll be seeing more about that as the game starts rolling out to eager gamers across the world.
The Collector's Edition of Metal Gear Solid 5: The Phantom Pain wasn't actually all that pricey for about a hundred dollars and even comes with a special replica of Snake's bionic arm, a special case, and several other awesome-looking physical rewards along with a wealth of unlockable items care of the code that seems to be missing from the PlayStation 4 packaging. The code isn't technically crucial to playing the game, but it's one of several goodies, physical and digital, that players could look forward to seeing this Tuesday, or whenever their shipping options allow them. The unlock codes that are missing will grant players this content:
Snake Costume Pack (4 camouflage outfits for Snake)
Cardboard Box Pack (3 cardboard boxes)
Weapons Pack (4 guns, 4 ballistic shields)
Venom Snake Emblem
Metal Gear Online items (Metal Gear Rex Helmet, AM MRS-4 Gold, WU S. Pistol Gold)
Metal Gear Online XP Boost
If players only opted for the Day 1 edition of the game, they'll get the following items when they enter their special codes:
Adam-ska special revolver
Silver personal ballistic shield
Wetland cardboard box
Blue urban fatigues outfit
Metal Gear Online XP Boost
The game is snaking its way onto a system near you this Tuesday, September 1, and it's releasing for PlayStation 4, Xbox One, PlayStation 3, Xbox 360, and PC. Look for our review as soon as I can get through the game. It's going to be a long weekend! Here's to hoping that your collector's edition comes intact when it finally makes its way to you.
Your Daily Blend of Entertainment News
Thank you for signing up to CinemaBlend. You will receive a verification email shortly.
There was a problem. Please refresh the page and try again.