Some Usernames Cause GTA 5 To Freeze In Windows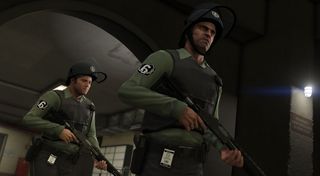 Shades of Game For Windows Live are cropping up all over again for GTA. This time instead of GFWL giving GTA IV users headaches and migraines for not working, it's Windows usernames giving GTA V users headaches and migraines because some people have special characters in their names.
IGN is reporting that the username issue is the most pressing issue plaguing gamers at the moment following the massive launch of GTA V on PC.
Any PC user with a Windows username that contains special characters outside the typical A-Z and 0-9 alphanumeric set will cause an error in the game updating through the Rockstar social network.
Not all is lost, though. After downloading 59GB worth of data most people definitely don't want to delete all the data and start from scratch. Heck, the 59GB download itself is actually larger than some of the standard 50GB bandwidth caps in place from some internet service providers.
Over on the Rockstar support forums there's a fairly simple fix to the problem (sort of), as they mention...
If you think you can weasel your way around this problem by going into the Administrator User Account settings and then changing your name, think again. That method does not work. Instead, you'll have to completely create a new Administrator account and ensure that the name is right proper and then you'll need to restart the computer.
If you're a patient Patty, you can sit on your laurels and give Rockstar the benefit of the doubt that a fix will arrive soon. This way you won't have to go messing around with the innards of your Windows username settings all for the sake of getting GTA V to work.
GTA V has been available for barely a day and it's already gathering a lot of attention. The game's pre-loading started last week on April 7th; marking the first time that PC gamers were able to get their hands on the game after waiting nearly two years.
Rockstar has been hard at work on the title, implementing new and upgraded features not available in the console version of the game. Rockstar has gone all out, tossing in a brand new video editor mode that takes everything that was present in GTA IV and then elevated it to the next level by implementing the new director mode that allows players to take control of any actor or animal within the game and tossing in new effects, camera angles and post-processing goodies. The game also supports resolutions up to 4K at 60 frames per second.
You can grab GTA V right now from participating distributors, but if your Windows username is a little wonky you might either want to change it or wait for Rockstar to issue a patch.
Your Daily Blend of Entertainment News
Staff Writer at CinemaBlend.
Your Daily Blend of Entertainment News
Thank you for signing up to CinemaBlend. You will receive a verification email shortly.
There was a problem. Please refresh the page and try again.