Sonic Coming to Smash Bros. Brawl? Pretty Damn Likely…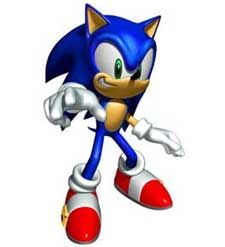 It's looking more and more likely that the spiky blue hedgehog will be hedging his way onto the Nintendo Wii's long-awaited beat 'em up. So what is the most damning piece of evidence to date? Sonic has appeared alongside Wario, Link, Samus, and Kirby on a pre-release advertising flier for a Canadian Best Buy. Personally, my thumbs are already preemptively blistering at the notion that I'll soon be showing our dear friend Jigglypuff how real spin dashes be done. Seriously, I hate that giant pink vagina. Whose brilliant idea was it to have the most powerful move in the game involve falling asleep? What are we teaching today's slackers?
The popular gaming blog Kotaku picked up a tip from one of its readers that Sonic appeared in the advertising flier. The cynics among you might say that this could easily be just another Best Buy screw up, and that certainly is a possibility. However, in light of developers Miyamoto and Sakurai publicly admitting that Sonic is the most desired character for Smash Bros. Brawl, things are looking up for the blue guy. I'm vouching for him on account of a couple reasons: Sonic already fits in so well with the Smash Bros. idiom: Bright, cutesy, adorable old-school characters with latent homicidal tendencies. Also, in the grand tradition of Smash Bros. palette-swappable characters (Mario/Luigi, Fox/Falco, Marth/Roy, etc.), having Sonic on the roster means it would be a trivial feat to throw Knuckles or Tails in there as well. Who's up for an asskicking from an Echidna? Ash Ketchum Pokémon Trainer, I'm looking in your direction…
Now all we need is to hear news that Little Mac will be strapping on his gloves, and there will be no reason for anyone not to pick up this title. 4 months to go!
Your Daily Blend of Entertainment News
Thank you for signing up to CinemaBlend. You will receive a verification email shortly.
There was a problem. Please refresh the page and try again.