Sony Closes Studio Liverpool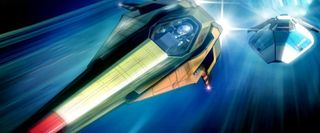 It's a sad day for racing fans the world over as Sony has announced the closure of one of its European studios, Sony Liverpool, the team responsible for the Wipeout series.
According to a statement from Sony to MCV, the decision appears to have been strictly business. That doesn't take any of the sting off of the announcement, but that's the way it goes these days. Sadly, the closure of smaller studios has become much more commonplace in these tough economic times, though usually not involving a studio that has been with a publisher for about two decades.
"As part of SCE Worldwide Studios, we do regular reviews to ensure that the resources we have can create and produce high quality, innovative and commercially viable projects in an increasingly competitive market place," reads the statement. "…It's been decided that Liverpool Studio should be closed. However, it is felt that by focusing our investment plans on other studios that are currently working on exciting new projects, we would be in a stronger position to offer the best possible content for our consumers."
Studio Liverpool's efforts through this most recent console cycle have provided two downloadable games, Wipeout HD and Wipeout Fury, as well as the PlayStation Vita launch title, Wipeout 2048. The original Wipeout helped establish the original PlayStation game console, and the series has seen a lot of success ever since.
According to Eurogamer, Studio Liverpool was working on a pair of PlayStation 4 titles at the time of its closure. The first of which was a new Wipeout game and the second was a "Splinter Cell type" game. No word on whether those projects will be passed off to other studios or if the team at Studio Liverpool will be able to move into other Sony houses.
So far the only word out of Studio Liverpool itself comes in the form of a brief announcement on its Facebook page.
"We have loved making every game, every minute, and every one of you," the post reads. "Keep the faith, keep loving Wipeout. Thank you for everything, Pilots."
Your Daily Blend of Entertainment News
Staff Writer for CinemaBlend.