Sound Blaster Tactic3D Rage Wireless And Wired Headset Announced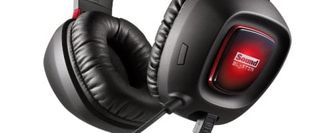 Creative Labs Technology announced today that the Sound Blaster Tactic3D Rage headset will become available sometime in September. The headset is one of those high-end gaming peripherals that comes in both wired and wireless form, enabling gamers to choose their financial poison with either going the cheap and inconvenient route or the expensive and comfortable route.
Ryan Schlieper, Product Marketing Manager for Gaming at Creative, shared some thoughts about the new Tactic3D Rage, saying...
It's become a standard within the audio technology industry to include audio management controls physically available near or on the headset to give gamers complete authority over their sound quality and audio preferences. In addition to this, the Tactic3D sports a removable, noise-canceling microphone for loss-less voice quality, 7.1 surround sound audio, and a built-in rechargeable battery for up to 16 hours of direct use. The headset also contains 50mm Full Spectrum drivers, and response frequencies of 20Hz ~ 20KHz.
In simple terms, this headset has everything you need to hear the games you love playing in the most high-quality way imaginable...or rather, listenable? Either way, the wired and wireless set allow for accurate 3D acoustic environments, so music, games and movies will sound as if you're actually there in the midst of all the action. The only drawback is that the wireless headset carries a rather hefty $129.99 price tag with it. If you're not strapped for cash then it wouldn't be a bad way to go. However, for those of us with a bit of frugality in our financial exercising diet, there's the much more affordable $79.99 wired edition of the Tactic3D Rage headset, which isn't too bad at all.
You can pick up a pair of the Tactic3D Rage headset this September. For more information be sure to pay a visit to the Official Website.
SBX Pro Studio Sound and Voice Technologies
• SBX Surround - Goes beyond 7.1 surround sound creating unprecedented levels of audio realism including stunning surround effects that produce virtual speakers around, above and below you
• SBX Crystalizer - Hearing the clang of armor or the hum of a BFG, makes for a great game experience. SBX Crystalizer ensures that every audio detail is heard by restoring the "highs" and "lows" that are compromised with audio compression
• SBX Bass - SBX Bass technology dramatically improves the sound experience by expanding the low frequency tones
• SBX Dialog Plus - SBX Dialog Plus intelligently enhances voices in games and moves for dramatically clearer dialog
• SBX Smart Volume - Address the problem of abrupt volume level changes in games by intelligently applying gain and attenuation to deliver consistent volume levels
• VoiceFX - Enables alteration of voice with a variety of effects, which can be used to enhance the tone of a voice, create interesting accents, or enable someone to sound like a completely different person
Image 1 of 1
Your Daily Blend of Entertainment News
Staff Writer at CinemaBlend.