South Park: The Stick Of Truth Delayed To 2013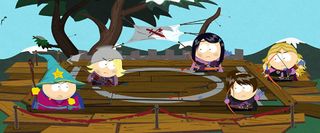 Gamers will have to wait even longer to check out Obsidian Entertainment's take on the South Park series. The South Park role-playing game, entitled South Park: The Stick of Truth has been delayed to next year.
THQ announced the delay during their latest earnings report. They expect to release the game during their fiscal fourth quarter. This period runs from January 1st, 2013 until March 31st.
The publisher didn't mention why they're delaying the game. However, it's not hard to guess the reason: polish. They've been adamant about only shipping the game once it's perfect.
"Matt and Trey won't ship until it's their vision of this ultimate role playing game, where you're the new kid in town and it's like being in a South Park episode," THQ vice president Danny Bilson said in a recent interview. Matt Stone and Trey Parker, the creators of South Park, are providing the script.
I'm glad to see THQ taking the "slow and steady" approach with this game. Obsidian Entertainment, the studio behind Neverwinter Nights 2 and Fallout: New Vegas, does good work in the RPG genre but their projects can be a bit rough around the edges. Giving them some extra time to squash bugs will result in a much better product in the end.
A solid South Park game would go a long way toward restoring THQ's reputation. Their ninety billion SpongeBob games didn't exactly earn them a lot of street cred. A quality, licensed game would go a long way toward restoring faith. South Park's fanbase is huge, too, so sales for a solid game might be enormous too.
Staff Writer at CinemaBlend.
Your Daily Blend of Entertainment News
Thank you for signing up to CinemaBlend. You will receive a verification email shortly.
There was a problem. Please refresh the page and try again.