South Park: The Stick Of Truth Steam Reviews Are Fantastic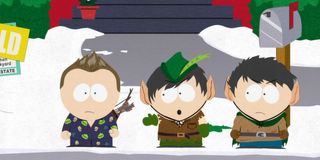 South Park: The Stick of Truth could end up being the funniest game of 2014. If you're looking for some additional humor after finishing the game, I recommend reading the Steam Reviews.
Steam Reviews, released in November, allow gamers to write critiques of any Steam titles that they own. These reviews, accompanied by a thumbs up or thumbs down, appear on the bottom of the product listing. Steam users can then vote on these reviews to determine which appear first.
Some players treat this task very seriously and write up detailed pros and cons for games. Others are more playful with their reviews. Here are some of the more colorful reviews for South Park: The Stick of Truth:
While they're not the most informative reviews you'll ever read, they do give you some helpful insight into the game. Stick of Truth is a very accurate translation of the South Park show and its crude humor. If these reviews gross you out, you probably wouldn't enjoy the game very much.
There are over 3,000 Steam Reviews for the game and some of them are even funnier than the ones posted above. However, they contain some significant spoilers. If you haven't played the game yet, you might not want to start browsing the full list.
In Stick of Truth, players take on the role of a kid who has just moved into South Park. Soon afterward they find themselves in the middle of a war between the humans (led by Cartman) and the elves (led by Kyle). The two are fighting for the titular Stick of Truth, said to give the wielder power over the universe. During the player's quest to end the war once and for all, he'll encounter dozens of characters from the television show. The game's storyline was written by the show's creators, who also supplied most of the voice work.
Stick of Truth is available now on PS3, Xbox 360 and PC. If you want to learn more about Stick, check out my review from last week.
Staff Writer at CinemaBlend.
Your Daily Blend of Entertainment News
Thank you for signing up to CinemaBlend. You will receive a verification email shortly.
There was a problem. Please refresh the page and try again.