New Special Edition Xbox One Controllers Are Coming, Check Them Out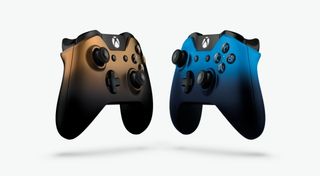 To Microsoft's credit, the Xbox One consistently receives a lot of special editions whether it's a special edition console or a special edition controller. Microsoft is constantly and continually offering gamers... choice. The latest bit of choice comes in the form of two specially designed Xbox One controllers.
Over on Major Nelson's blog they describe the two new controllers for the Xbox One, which includes the Dusk Shadow and Copper Shadow livery designs.
The two new controllers have come about based on fan feedback and community requests. They're both wireless and offer the same kind of functionality as the standard Xbox One controller. Both also feature a gradient color finish, with the Dusk Shadow fading from an aqua blue to a shadowy black, and the Copper Shadow fading from a glossy-copper finish to a shadowy black. Both controllers have the face buttons and menu buttons colors replaced respective of the livery design, so you get blue face buttons and blue menu buttons on the Dusk Shadow and you get copper face buttons and copper menu buttons on the Copper Shadow.
Both controllers have the standard features that many have become accustomed to from Xbox One controllers, including impulse triggers with rumble, an enhanced D-pad, and battery proficiency. The added features to the controllers include the 3.5mm headphone jack, so you can plug in your favorite headset while you game.
Pre-orders for both controllers have gone live, and they will be available at select retailers in the U.S., and several other regions, including GameStop and Best Buy. The controllers will retail for $69.99. If you can't find the controllers at your local GameStop or Best Buy, it's also possible to order them directly from the Microsoft online store.
So far, the feedback on the controllers have mostly all been positive. A lot of gamers love that the Xbox One receives such unique controller liveries and that there are so many different options to choose from.
There are a few consistent and repeated complaints about the controllers, though. For one thing a lot of people are a bit skeptical about putting down $69.99 for another Xbox One controller when they don't know if the analog sticks will have long lasting functionality. Anyone who has used an Xbox One controller for a long while will know that the left analog stick will usually begin to float upward sporadically. It's an issue that affects those who game regularly with a controller on the Xbox One.
Microsoft managed to fix the analog issue with the Xbox One Elite Controller, which offers gamers plenty of customization options and improved durability, mostly because it was designed for eSports competitions and hardcore gaming sessions where it would be put through the ringer regularly. There's no mention of the analogs for the Dusk Shadow and Copper Shadow being designed and configured to overcome the floating issue.
The other problem some Xbox gamers mentioned is that the controllers lack the rubber palm grips. They feel those grips really added a lot of value and functionality to the Lunar White controller for the Xbox One. Sadly they're not present with these two new specially designed controllers.
You can pre-order the Dusk Shadow and Copper Shadow right now for $69.99, and if you live outside of the Americas you can look for both controllers to become available worldwide in April.
Your Daily Blend of Entertainment News
Staff Writer at CinemaBlend.