Spider-Man 3, First Trailer Of Venom For PS3 And Xbox 360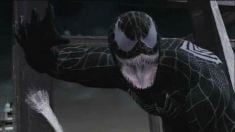 The Sandman, Green Goblin's son and Venom are a treacherous group of super-villains for Spider-Man. But the friendly neighborhood Spidey isn't completely without a few tricks up his sleeve. Check out how the blue and red spandex-wearing super-hero deals with some unyielding foes in this new trailer.
Spider-Man 3 is easily going to be the biggest blockbuster of the summer. And as always...gaming publishers are jumping in on the licenced property cash-flow. Activision, in this instance, has the black-suited Spidey poised and ready for current-gen and next-gen platforms. And to showoff what gamers can currently experience from the third outing of Peter Parker's latest adventure, Activision has released a new trailer that gives us a glimpse of Venom. But that's not to mention that there's also extended footage of Spidey's battle with the Sandman...very impressive looking. Check out the trailer below.
Your Daily Blend of Entertainment News
Staff Writer at CinemaBlend.