Square Enix Teases Mysterious Console JRPG Release For This Year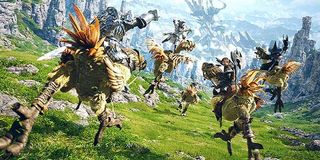 The Square Enix buzz train keeps on rolling, this time fueled by a comment from company President Yosuke Matsuda who teased a new JRPG being announced for consoles sometime this year.
You've got to give Matsuda credit for being a smart businessman, letting slip just enough information to create rumors and speculation. This news comes to us via Gamatsu, who translated a recent interview in which Matsuda discussed a potential new game.
"For fiscal 2015, I think we have a considerable amount of high-end games both inside and outside the country," Matsuda said. "Starting with Final Fantasy XV, we'll be putting out news for Japanese RPGS. I think we'll have a little surprise, too…a JRPG for home game machines."
Matsuda wasn't exaggerating when he said it's shaping up to be a big year for the developer/publisher. Final Fantasy Type-0 HD just launched yesterday and is already receiving some strong reviews. That game also gave players a chance to tackle the Final Fantasy XV demo, a game that is due out later this year.
A big update is due out for Final Fantasy XIV later this year, alongside a whole bunch of other titles like Dragon Quest Heroes, Theatrhythm Dragon Quest, Bravely Second, Triad Wars the underwhelming FFVII update for PS4, Just Cause 3 and Rise of the Tomb Raider. Some of those titles might get pushed back, or arrive next year in the US, but it's still a pretty impressive list. And then thre's Kingdom Hearts III, which could still be announced for a 2015 release. And let's not forget about Square Enix's various other online and mobile games, which help further bolster their stable. Oh, and then there's that rad-as-hell Dissidia arcade game coming out, too.
So, yes, it looks like Square Enix is sitting pretty in 2015. It's shaping up to be a nice change of pace, as many of the developer's more recent announcements have been underwhelming at best. In the games department, all anyone seems to remember at this point is the original Final Fantasy XIII not blowing anyone's mind. Never mind the fact that the two follow-ups made big improvements and loads of other great SE games have come out since then, as people's minds tend to stick more easily on the negatives.
So that's got me wondering: What "surprise" could Matsuda be talking about and when might we find out more information? E3 is only a few months away at this point, which seems like as likely a time as any to make a big reveal. We can also narrow down the field of possibilities to JRPGS, thanks to Matsuda's cryptic comment. In other words, we're open to suggestions in the comments section below. What JRPG would you like to see Square Enix unveil? I would personally do a backflip for a new or re-released Valkyrie Profile, if anyone's interested.
Staff Writer for CinemaBlend.
Your Daily Blend of Entertainment News
Thank you for signing up to CinemaBlend. You will receive a verification email shortly.
There was a problem. Please refresh the page and try again.